At a number of events earlier in the year, NRI and other colleagues from the Universities at Medway pulled together to fire up community interest in plant science, enthuse the public about food hygiene and food programmes across the University of Greenwich, and garner support for local charities.
The events began with a captivating look at plants during the Fascination of Plants Day held on Sunday 17th May at the University of Greenwich Medway Campus. Science-curious people of all ages had the chance to look, touch, smell and taste plants or plant products, and understand our interaction with plants on a daily basis.
NRI staff and students contributed with interesting insights into chocolate and the cocoa pod, insect-friendly plants, tasting coffee made from a variety of beans, and the enigmas of hayfever. Other colleagues from the Faculty of Science and Engineering invited participants to view tropical insects and local plants and flowers from the novel perspective of the microscope, among other activities, whilst providing information on our plant-related programmes including the MSc in Applied Plant Science and the new undergraduate Integrated Masters in Biology. Next year's event is sure to fascinate fans even further! Fascination of Plants Day Photo Gallery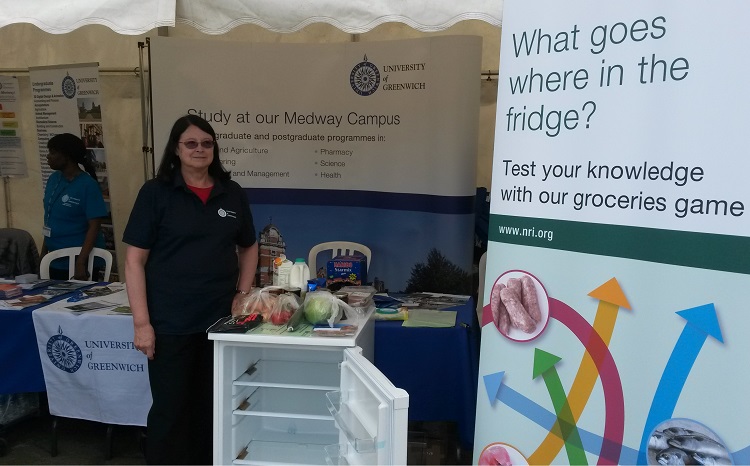 At the Chatham Maritime Food & Drink Festival, the stand dedicated to the University of Greenwich's food work welcomed thousands of visitors over the three days from 23–25th May. NRI's Linda Nicolaides presented a variety of food-related demonstrations throughout the festival, along with other colleagues from the Faculty. Through focussed interactive sessions, Linda found that people of all ages from Medway have a good understanding of food hygiene, and showed a lot of interest in the work we do and the food programmes and courses we provide, including our MSc in Food Innovation, MSc in Food Safety and Quality Management, and the brand new e-learning programme on Food Safety and Quality Management to be offered in 2016. The food team is already thinking up new recipes for success for next year's event.
Float like a dragon, sting like a bee?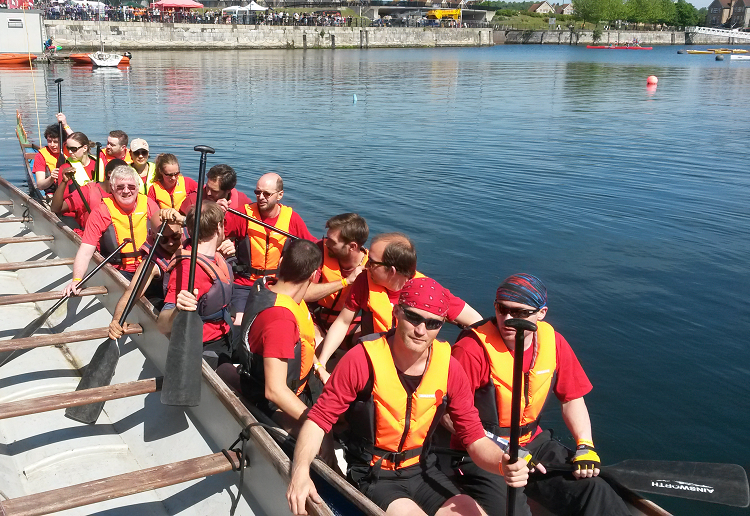 On Sunday 24th May, the 2015 Medway Dragon Boat Challenge took place in Basin 2, Chatham Maritime. Like bees in a storm, members of NRI's team "Never Rowed in a Boat II" clustered together to put on a valiant display of teamwork, companionship and skill. As spirits soared as high as the temperature, both paddlers and supporters were left red-faced and tired but joyful. Spurred on by enthusiastic Captain and PhD student, John Pattison-Williams, and choreographed into rhythmic harmony by the exact timing of dragonboat drummer and NRI Director, Andrew Westby, the team did well in the first few heats, but were pipped at the post by…none other than a colony of bees that had taken up residence in the 6th boat that was to be used in the final! Luckily, NRI entomologists, Sarah Arnold and Simon Springate, were on hand to ensure that both the public and the bees were kept safe from harm. Together with NRI consultant beekeeper, John Goffin, they got suited up and attempted to remove the bees from their temporary floating home.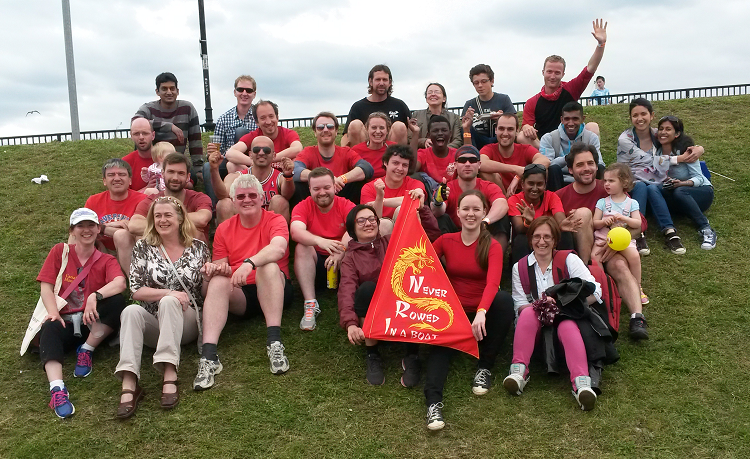 The race raised a total of £580.00 in donations for local charities, surpassing the 2014 amount and almost reaching the £600.00 goal. With an eye on the distant horizon, Captain John looks towards next year's goals: consolidate the lessons from this year's race, train more, focus the team strategy, raise even more for charity, and win! Sign up to join the crew for next year's race!
Event links: Fascination of Plants Day | Chatham Maritime Food & Drink Festival | Contact Linda Nicolaides | Medway Dragon Boat Challenge | Contact Captain Pattison-Williams