Professor Robert Cheke has been awarded a prestigious Doctor of Science degree by the University of Greenwich, in recognition of his research on birds, insects, crops and diseases that spans a period of fifty years. The award was made at a Ceremony at Rochester Cathedral on 9th September 2021.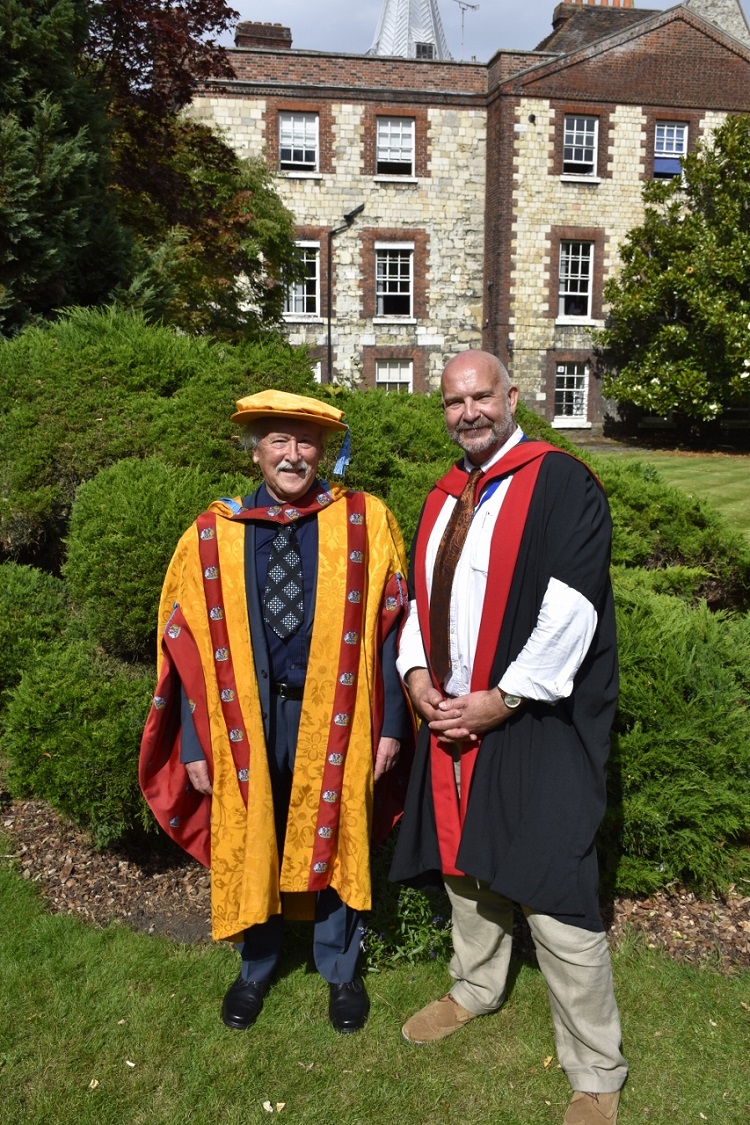 A Doctor of Science (D.Sc.) degree in the UK is one of the 'higher doctorates' and is awarded in recognition of sustained world-leading research activity. It is assessed by three external examiners who review a thesis submitted by the candidate and a supporting portfolio of published works.
Professor Cheke has been recognised for the award after completing a D.Sc. thesis entitled "Blackflies, blight, bifurcations and biodiversity: understanding and managing populations of disease vectors, agricultural pests and species of conservation concern".
The thesis was supported by two books on birds and more than 200 other publications that Bob has written or been a co-author of, in a period from 1967 to 2019. An example of the excellence of the work conducted by Bob is his work on the elimination of onchocerciasis - or river blindness - from Bioko Island in Equatorial Guinea by controlling blackfly populations which transmit the disease. This has protected the lives of more than 350,000 people, and the approach has been rolled out across Africa protecting many more. This work formed part of NRI's submission that was awarded a Queen's Anniversary Prize for Higher and Further Education in 2019.
Other articles cited are on locusts, red-billed quelea birds and armyworm moths (all migrant pests that devastate crops), on mathematical modelling of the population dynamics of these and other agricultural pests and on models of diseases such as dengue fever, swine influenza, West Nile virus, cancer and diabetes.
NRI's Director, Professor Andrew Westby said: "We are all immensely proud that this very special and rare award is being made to Bob and it's a real reflection of the quantity and quality of the work that he has carried out over more than 50 years. Along with other important accolades, this award is testament to the true impact that Bob's work has had on hundreds of thousands of people who are affected by serious diseases. Bob continues to use his expertise in ground-breaking research, generating, applying and sharing knowledge for a sustainable world."
Vice Chancellor of the University of Greenwich, Professor Jane Harrington added: "This is well-deserved recognition of the significant contribution Bob has made during his long and distinguished career. His world-leading and world-changing research has made a real difference to the lives of so many people and I'm incredibly proud that Bob is part of our University of Greenwich community."
To find out more about: