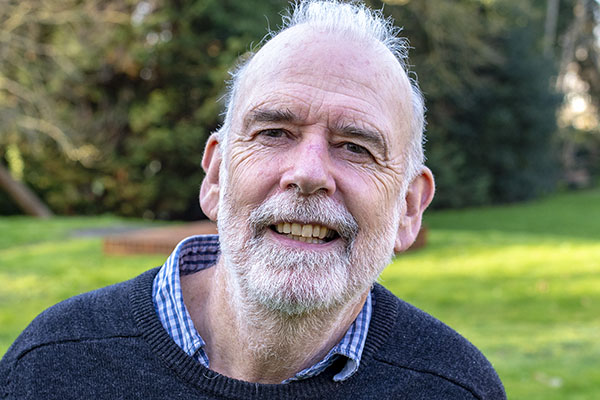 Principal Scientist: Socio-Economist
Livelihoods and Institutions Department
Natural Resources Institute,
Faculty of Engineering & Science
+44 (0)1634 88 3762
Socio-economist. 20 years experience in research, consultancy, facilitation and training relating to agriculture and natural resource management. Expertise includes: livelihoods analysis; stakeholder and institutional analyses; enhancing stakeholder communication, learning and engagement; on-farm research; formal survey and participatory approaches. Long-term experience in Tanzania, Caribbean, Pacific; short-term in Ghana, Kenya, Malawi, Nigeria, Sierra Leone, Swaziland, Uganda and Nepal. Fair Swahili; fluent Bislama. Current focus: capacity strengthening of agricultural innovation systems; climate change responses; agro/wild biodiversity management; governance and service delivery in agriculture.
Lamboll R.,Nelson V.,and Mansfield D. (2020) 'Strengthening decision-making on Sustainable Agricultural Intensification through Multi-Stakeholder Social Learning'. SAIRLA Briefing Paper, Chatham: Natural Resources Institute. https://sairla-africa.org/wp-content/uploads/2020/06/SAIRLA-Social-Learning-Brief-June-2020.pdf
Robb, Jane, Haggar, Jeremy, Lamboll, Richard and Castellanos, Edwin (2019) Exploring the value-action gap through shared values, capabilities and deforestation behaviours in Guatemala. Environmental Conservation, 46 (3). pp. 226-233. ISSN 0376-8929 (Print), 1469-4387 (Online) (doi:https://doi.org/10.1017/S0376892919000067)
Lamboll, Richard, Martin, Adrienne, Sanni, Lateef, Adebayo, Kolawole, Graffham, Andrew, Kleih, Ulrich, Abayomi, Louise and Westby, Andrew (2018) Shaping, adapting and reserving the right to play: Responding to uncertainty in high quality cassava flour value chains in Nigeria. Journal of Agribusiness in Developing and Emerging Economies, 8 (1). pp. 54-76. ISSN 2044-0839 (doi:https://doi.org/10.1108/JADEE-03-2017-0036)
Haggar Jeremy, Lamboll Richard, and Nelson Valerie (2018) 'Understanding different perspectives on Sustainable Agricultural Intensification and how it can be achieved', SAIRLA Working Paper 1, Chatham: Natural Resources Institute. https://sairla-africa.org/wp-content/uploads/2018/12/Understanding-SAI-and-how-it-can-be-achieved_FINAL.pdf
Lamboll, Richard, Stathers, Tanya and Morton, John (2017) Climate change and agricultural systems. In: Snapp, Sieglinde and Pound, Barry, (eds.) Agricultural Systems: Agroecology and Rural Innovation for Development. Academic Press, London, pp. 441-490. ISBN 978-0128020708 (doi:https://doi.org/10.1016/B978-0-12-802070-8.00013-X)
Ifeanyi-Obi, C.C., Togun, A.O., Lamboll, R., Adesope, O.M. and Arokoyu, S.B. (2017) Challenges faced by cocoyam farmers in adapting to climate change in Southeast Nigeria. Climate Risk Management, 17. pp. 155-164. ISSN 2212-0963 (Print), 2212-0963 (Online) (doi:https://doi.org/10.1016/j.crm.2017.04.002)
Antwi-Agyei, Philip, Quinn, Claire Helen, Adiku, Samuel Godfried Kwasi, Codjoe, Samuel Nii Ardey, Dougill, Andrew John, Lamboll, Richard and Dovie, Delali Benjamin Komla (2016) Perceived stressors of climate vulnerability across scales in the Savannah zone of Ghana: a participatory approach. Regional Environmental Change, 17 (1). pp. 213-227. ISSN 1436-3798 (Print), 1436-378X (Online) (doi:https://doi.org/10.1007/s10113-016-0993-4)
Joshua, Miriam K., Ngongondo, Cosmo, Monjerezi, Maurice, Chipungu, Fellistus, Liwenga, Emma, Majule, Amos, Stathers, Tanya and Lamboll, Richard (2016) Climate change in semi-arid Malawi: perceptions, adaptation strategies and water governance: original research. Jàmbá: Journal of Disaster Risk Studies, 8 (3). pp. 1-10. ISSN 1996-1421 (Print), 2072-845X (Online) (doi:https://doi.org/10.4102/jamba.v8i3.255)
Lamboll, Richard, Nelson, Valerie , Posthumus, Helena, Martin, Adrienne , Adebayo, Kolawole, Alacho, Francis, Dziedzoave, Nanam, Mahende, Grace, Sandifolo, Vito, Sanni, Lateef, Abayomi, Louise, Graffham, Andrew, Hillocks, Rory and Westby, Andrew (2015) Practical lessons on scaling up smallholder-inclusive and sustainable cassava value chains in Africa. Food Chain, 5 (1-2). pp. 28-52. ISSN 2046-1879 (Print), 2046-1887 (Online) (doi:https://doi.org/10.3362/2046-1887.2015.004)
Lamboll R., Morton J., Kisauzi D., Ohiomoba I., Demby D., Mangheni M., Moumouni I., Parkinson V., Suale D., Nelson V. and Quan J. (2015) Incorporating climate change into agricultural research and advisory services in Africa. Poster presented at 3rd Global Science Conference on Climate Smart Agriculture, Montpellier, France March 2015.
Morton, J., Kisauzi, D., Ohiomoba, I., Demby, D., Mangheni, M., Moumouni, I., Parkinson, V., Suale, D., Lamboll, R., Nelson, V. and Quan, J. (2014) Climate, agriculture and knowledge in Africa: Agricultural research and advisory services in the face of climate change. Final synthesis report of the climate learning for African agriculture project. Project Report. University of Greenwich (NRI), FARA and AFAAS, Chatham, UK.
Stathers, Tanya , Lamboll, Richard and Mvumi, Brighton M. (2013) Postharvest agriculture in changing climates: Its importance to African smallholder farmers. Food Security, 5 (3). pp. 361-392. ISSN 1876-4517 (Print), 1876-4525 (Online) (doi:https://doi.org/10.1007/s12571-013-0262-z)
Stathers, Tanya, Lamboll, Richard and Mvumi, Brighton (2013) Post-harvest agriculture in a changing climate. Rural 21: The International Journal for Rural Development, 47 (4). pp. 12-14. ISSN 1866-8011
Nelson, Valerie , Morton, John, Apenteng, Essie Aduwa Ape and Lamboll, Richard (2013) African Agricultural Research and Advisory Services under Climate Change: Perspectives from an E-­Discussion. [Working Paper]
Jarvis Andy, Ramirez-Villegas Julian, Nelson Valerie, Lamboll Richard, Nathaniels Nick , Radeny Maren, Mungai Catherine, Bonilla-Findji Osana, Arango David, Peterson Caitlin (2013) Farms of the future: An innovative approach for strengthening adaptive capacity. In International Conference on Agricultural Innovation Systems in Africa (ASIA), https://doi.org/10.13140/2.1.1269.9208.
Lamboll Richard and Nelson Valerie (2012) Working Paper No.1 - Exploring the links between Climate Change, Agriculture & Development: A Briefing Paper. FARA, AFAAS, NRI, CDKN.
Lamboll Richard and Nelson Valerie (2012) Working Paper No.2 - Exploring the linkages and guiding concepts relevant to Climate Change, Agriculture and Development: A Detailed Resource Document. FARA, AFAAS, NRI, CDKN.
Adebayo, K., Abayomi, L., Abass, A., Dziedzoave, N.T., Forsythe, L. , Hillocks, R.J., Gensi, R., Gibson, R.W., Graffham, A.J., Ilona, P., Kleih, U.K., Lamboll, R.I., Mahende, G., Martin, A.M. , Onumah, G.E., Orr, A.W., Posthumus, H., Sanni, L.O., Sandifolo, V. and Westby, A. (2010) Sustainable inclusion of smallholders in the emerging high quality cassava flour value chains in Africa: challenges for agricultural extension services. Journal of Agricultural Extension, 14 (1). pp. 1-10. ISSN 1119-944X
Liwenga, Emma, Swai, Elirehema, Nsemwa, Lebai, Katunzi, Alphonce, Gwambene, Brown, Joshua, Miriam, Chipungu, Felistus, Stathers, Tanya and Lamboll, Richard (2012) Exploring urban rural interdependence and the impact of climate change in Tanzania and Malawi: final narrative report. Project Report. International Development Research Centre (IDRC), Ottawa, Canada.
Lamboll Richard, Nelson Valerie and Nathaniels Nick (2011) Emerging Approaches for Responding to Climate Change in African Agricultural Advisory Services: Challenges, Opportunities and Recommendations for an AFAAS Climate Change Response Strategy . AFAAS, Kampala, Uganda and FARA, Accra, Ghana
Adebayo, K., Abayomi, L., Abass, A., Dziedzoave, N.T., Forsythe, L., Hillocks, R.J., Gensi, R., Gibson, R.W., Graffham, A.J., Ilona, P., Kleih, U.K., Lamboll, R.I., Mahende, G., Martin, A.M., Onumah, G.E., Orr, A.W., Posthumus, H., Sanni, L.O., Sandifolo, V. and Westby, A. (2010) Sustainable inclusion of smallholders in the emerging high quality cassava flour value chains in Africa: challenges for agricultural extension services. Journal of Agricultural Extension, 14 (1). pp. 1-10. ISSN 1119-944X Item availability restricted.
Manu-Aduening, J.A., Lamboll, Richard, Ampong Mensah, G. and Gibson, Richard W. (2007) Farmers' perceptions and knowledge of cassava pests and diseases and their approach to germplasm selection for resistance in Ghana. Annals of Applied Biology, 151 (2). pp. 189-198. ISSN 0003-4746 (doi:10.1111/j.1744-7348.2007.00182.x) Item not available online.
Manu-Aduening JA, Lamboll RI, Ampong Mensah G, Lamptey JN, Moses E, Dankyi AA, Gibson RW (2006) Development of superior cassava cultivars in Ghana by farmers and scientists: the process adopted, outcomes and contributions and changed roles of different stakeholders. Euphytica 150:47–61. https://link.springer.com/article/10.1007%2Fs10681-006-9091-x
Gibson, R.W., Lyimo, N.G., Temu, A.E.M., Stathers, T.E. , Page, W.W., Nsemwa, L.T.H., Acola, G. and Lamboll, R.I. (2005) Maize seed selection by East African smallholder farmers and resistance to Maize streak virus. Annals of Applied Biology, 147 (2). pp. 153-159. ISSN 0003-4746 (Print), 1744-7348 (Online) (doi:https://doi.org/10.1111/j.1744-7348.2005.00021.x)
Manu‐Aduening JA, Lamboll RI, Dankyi AA, Gibson RW (2005) Cassava diversity in Ghanaian farming systems. Euphytica, 144, 331– 340. https://doi.org/10.1007/s10681-005-8004-8
Lamboll Richard, Morris Mike and van Broekhoven Lia (2002) Biodiversity conservation and rural development in Tanzania: Experience, examples and issues. In Grimble R.(Ed) Biodiversity conservation in rural development. Chatham, UK: NRI/ DFID. ISBN: 0859545415
Martin, P.J., Topper, C.P., Bashiru, R.A., Boma, F., De Waal, D., Harries, H.C., Kasuga, L.J., Katinila, N., Kikoka, L.P., Lamboll, R., Maddison, A.C., Majule, A.E., Masawe, P.A., Millanzi, K.J., Nathaniels, N.Q., Shomari, S.H., Sijaona, M.E. and Stathers, T. (1997) Cashew Nut Production in Tanzania: Constraints and Progress through Integrated Crop Management. Crop Protection, 16 (1). pp. 5-14. ISSN 0261-2194 (doi:https://doi.org/10.1016/S0261-2194(96)00067-1)