NRI's Professor of Molecular Plant Pathology, Maruthi Gowda, has received the prestigious Hind Rattan award. The Hind Rattan, translated into English as "Jewel of India", is one of the highest awards granted annually to non-resident persons of Indian origin in recognition of their outstanding services, achievements, and contributions in their respective fields. It is awarded by the Non-Resident Indian (NRI) Welfare Society of India and is celebrated on the 9th January every year to mark the contribution of the overseas Indian community in the development of India.
Professor Maruthi Gowda, received the Hind Rattan Award this year, "for outstanding Services, Contributions and Achievements in the field of Molecular Plant Pathology, particularly for his holistic research and development for increasing food security of millions of farmers in Africa by developing solutions to manage major cassava pests and diseases such as cassava mosaic disease, cassava brown streak disease and the whiteflies".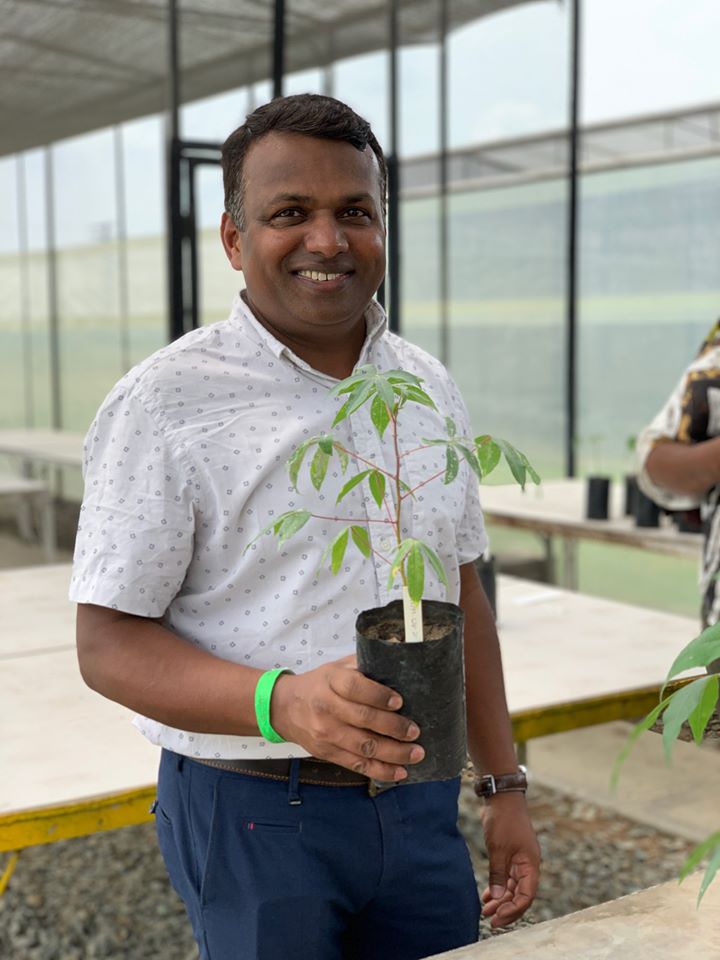 Speaking after the ceremony Professor Gowda said: "It is a great honour to receive this award from my country of birth. Having my passion and commitment to science recognised in this way is a great honour, and testament to the hard work, dedication and sacrifices of my many collaborators both in Africa and abroad, team members and colleagues, and family who made all this possible. Finally, the Natural Resources Institute where I work provided the opportunity and platform to pursue my dream of using science and research for solving real world problems."
Professor Gowda is a molecular plant virologist and vector entomologist with 20 years of research experience in plant-virus-insect interactions, especially those involving geminiviruses, potyviruses and their whitefly vector, Bemisia tabaci. The viruses infect cassava, vegetables and other staple food crops in the tropics, reducing yields and affecting food supplies.
Professor Gowda's most recent research involves leading a core team of researchers (seven PhDs) investigating the reasons for the recent outbreak of cassava brown streak disease (CBSD) in the eastern and southern African region. Their research is multi-disciplinary, from field epidemiology to molecular biology and tissue culture to functional genomics. Their aim is to better understand plant-virus-vector relationships and the mechanisms of disease resistance to enable the development of improved disease control strategies. Professor Gowda was the first to identify whitefly B. tabaci as the natural vector of cassava brown streak ipomoviruses (CBSIs). He has also developed robust low-cost diagnostic tests for CBSVs and cassava mosaic viruses, which are utilised in several African laboratories.
Through a multi-partner project 'New cassava varieties and clean seeds to combat CMD and CBSD' (5CP), funded by the Bill and Melinda Gates Foundation (2012–16), Professor Gowda developed a highly sensitive virus-indexing programme for cleaning virus-infected cassava landraces and contributed to providing healthy cassava seed to farmers in the most disease-affected countries, such as Kenya, Malawi, Mozambique, Tanzania and Uganda. This has also led to the development of the cassava seed system for supplying healthy seed in several countries in eastern Africa.
The event could not be held in person at the Parvasi Bhawan New Delhi due to current Covid19 restrictions and therefore Professor Gowda received his award at a virtual ceremony during the 40th International Convention of the NRI Welfare Society of India. You can watch the ceremony: https://www.youtube.com/watch?v=Zv20EuWUwBM
Maruthi's profile: https://www.nri.org/people/gowda-maruthi
NRI welfare Society of India: http://www.nriwelfaresocietyindia.com/