A key challenge to eradicating onchocerciasis is a shortage of disease surveillance skills. Onchocerciasis, commonly known as river blindness, is a neglected tropical disease (NTD) caused by the parasitic worm Onchocerca volvulus. The parasites are transmitted by repeated bites of blackflies belonging to the biological group Simulium. Africa carries the bulk of the disease burden with over 99% of infected people residing in 31 African countries. To address this skills gap, a team from NRI conducted a training course from 19-23 June 2023 at the University of Energy and Natural Resources (UENR) in Sunyani, Ghana.
21 trainees from six countries—Mozambique, Cameroon, USA, Ghana, Benin and the UK—attended the training. Participants were trained in practical skills including field sampling and correct handling and storage of adult, larval and pupal blackflies. They also learnt how to rear blackflies from pupae to adults in the laboratory, and identify its adult, larval and pupal stages.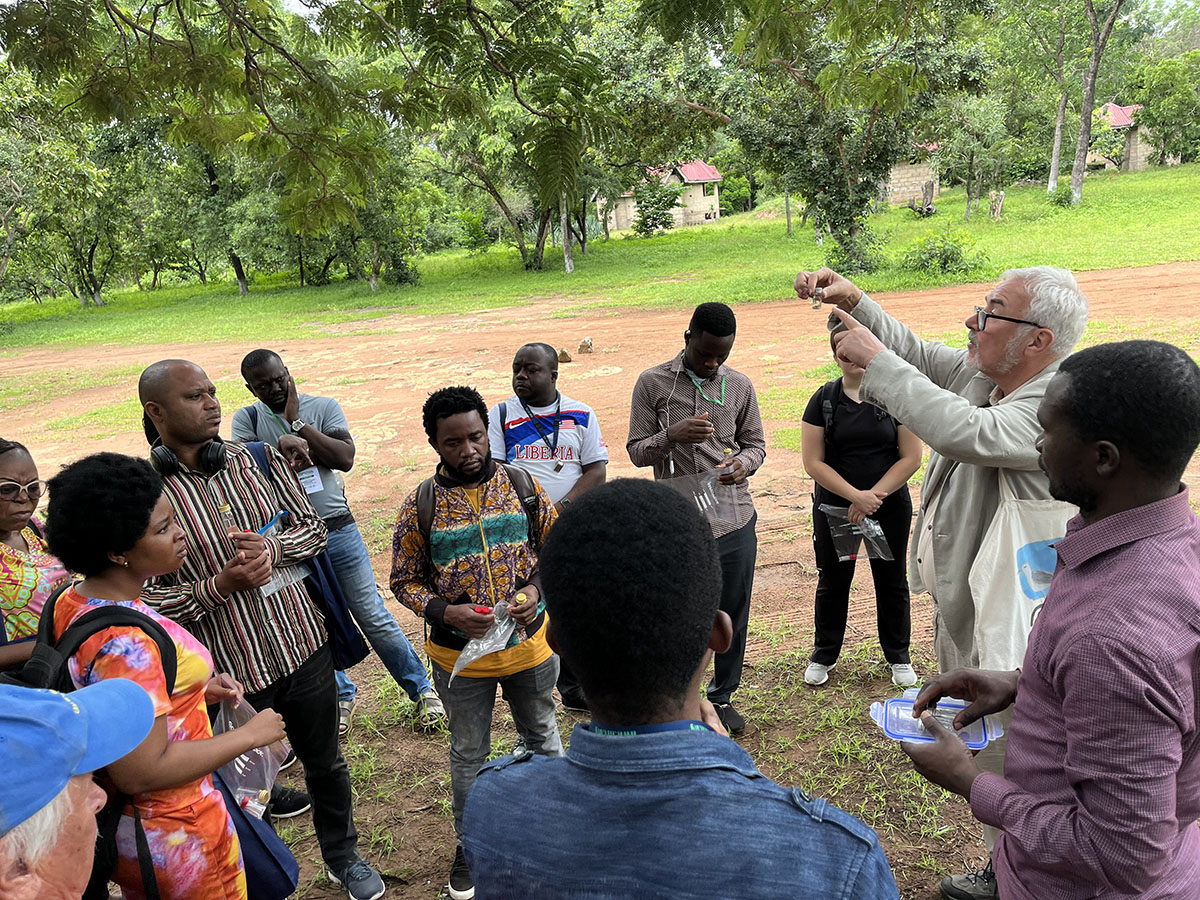 Identifying the sex of adults as either male or female was covered – an important aspect as only female flies bite people and therefore spread the parasite – as were practical sessions on dissection of adults and larvae. Trainees also received skills in larval chromosome preparation and cytotaxonomy, a system of identifying and classifying organisms based on information in their chromosomes. They were also educated on the background for onchocerciasis elimination, vector control practices, and sampling methods. The training included a field visit to the Fuller Falls, a blackfly breeding site. Here, trainees learnt how to sample larval and pupal blackflies from the vegetation and rocks in fast flowing rapids where blackflies typically lay their eggs.
The exercise was timely and key to increasing capacity in what have become rare entomological skills, but for which demand is rapidly increasing. This is because entomological surveillance is a core component of elimination surveillance in all countries where the disease is prevalent. The World Health Organization (WHO) Road Map for NTDs 2021-2030 lists the need for entomological capacity as a critical gap for onchocerciasis elimination.
The training was important as it was a critical step for the core project team to implement project activities. Equally importantly, attendees from outside the project can incorporate knowledge and skills from the training into their research and other activities that support onchocerciasis elimination surveillance. Without entomological surveillance, it is difficult for countries to know whether they should stop mass drug administration with ivermectin. It is also problematic to know if they are approaching the threshold to confirm that they have interrupted transmission enough to qualify for elimination status. Mass drug administration with ivermectin is currently the core strategy to eradicate onchocerciasis, with a minimum requirement of 80% therapeutic coverage. The WHO estimates that at least 12-15 years of annual treatment are required in high and moderate endemic areas to eliminate transmission, corresponding to the lifespan of the adult Onchocerca volvulus.
'Many countries have had sustained ivermectin campaigns, so now it is important that local teams have the entomological skills needed to test whether the campaigns have interrupted transmission through sampling and analysis of the blackfly vector population', said NRI's Dr. Frances Hawkes, Associate Professor in Medical Entomology. Reflecting on the practicality of the approach, she noted: 'This is much less invasive and costly than testing for infection in humans, which involves taking blood samples or small "skin snip" samples to check for parasites in patients, which can be a painful procedure.'
As a side event to the training, NRI's partner at UENR, Dr. Kenneth Bentum Otabil, held an International Stakeholders Engagement Forum on Onchocerciasis Control in Ghana on Friday 19th June 2023 in Sunyani, Ghana. The event was attended by representatives from various government departments including the Environmental Protection Agency, the Bono Regional Health Directorate of the Ghana Health Service, Ghana Education Service, members from academia, the Regional Council of Chiefs, and NGOs including Sightsavers International. Dr. Otabil emphasized that early and inclusive stakeholder engagement at the start of research projects is important to facilitate the incorporation of research findings into policy and programmatic decisions on onchocerciasis control. 'These stakeholder engagements encourage community ownership of control programmes, and lead to increased compliance with Mass Drug Administration regimes in the communities,' he noted. 'Overall, it makes the fight against onchocerciasis easier and more effective', he added.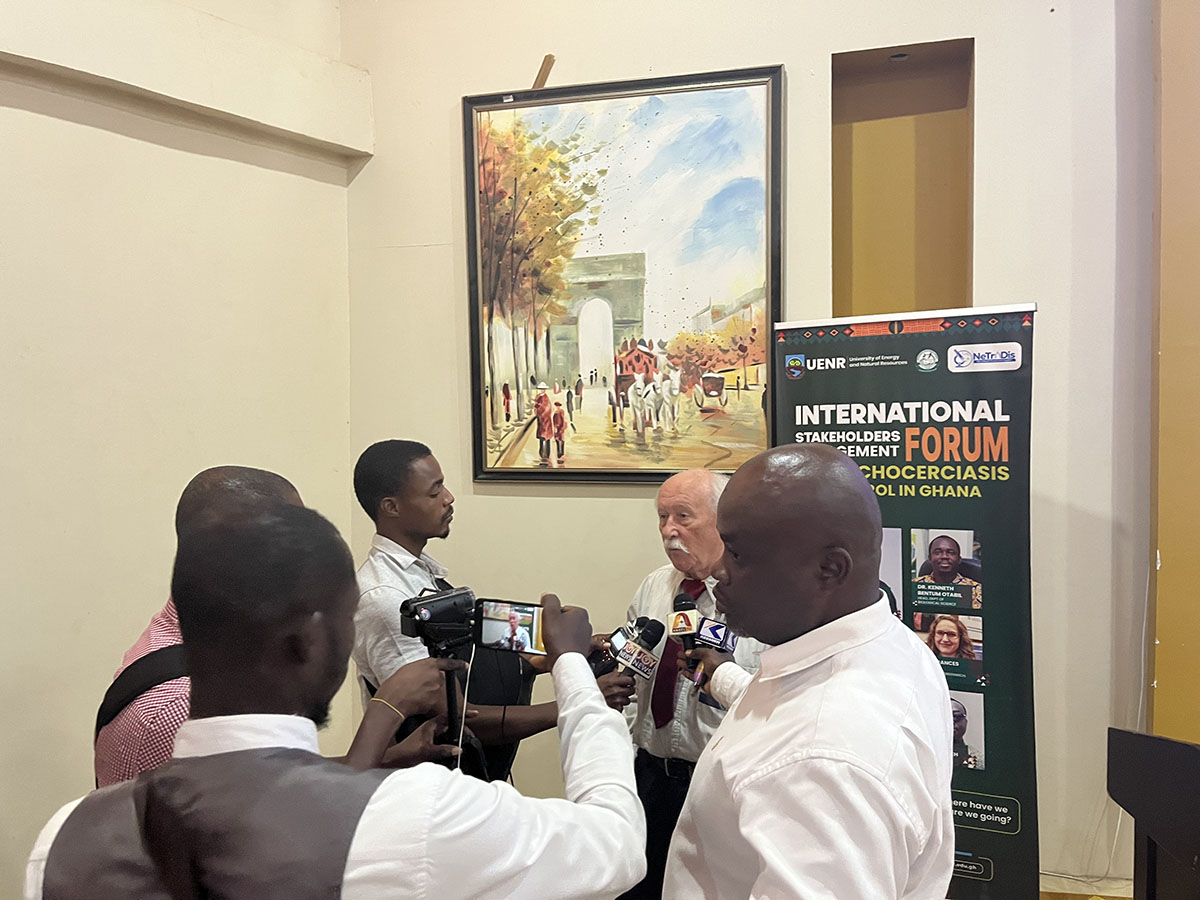 The Forum, which was covered by local TV and radio stations, highlighted the impact of onchocerciasis on rural communities and the progress being made in controlling the disease. Not only the scientific talks, but also the music, dance and drama routines performed by students of the University as entertainment during intervals, added an extra impetus to the event.
Overall, the training consolidated entomological skills in some more experienced trainees, but also gave a new group of onchocerciasis researchers and practitioners a foundation in the critical entomology skills that will be needed in onchocerciasis-endemic countries where the disease is approaching elimination. Trainers included NRI's Prof. Robert Cheke, Dr Rory Post from Liverpool John Moores University, and Pelagie Boko-Collins from Sightsavers Benin. The exercise was part of a Bill and Melinda Gates Foundation funded-project, Improved Simulium capture for onchocerciasis elimination surveillance. The project aims to address the entomological knowledge gaps that are impeding surveillance of onchocerciasis and therefore also impeding verifying if and where the disease has been eliminated.