NRI was abuzz as the Natural Resources Institute Postgraduate Society (NRIPS), a student-led group, held its 7th annual symposium. Forty-two students at various stages of their PhD studies joined their supervisors, research peers and other university members of staff in a lively knowledge sharing and networking event in the Jellicoe building on 9 June 2023. Prof Andrew Westby, Pro-Vice Chancellor, Research and Knowledge Exchange, University of Greenwich, London was also in attendance.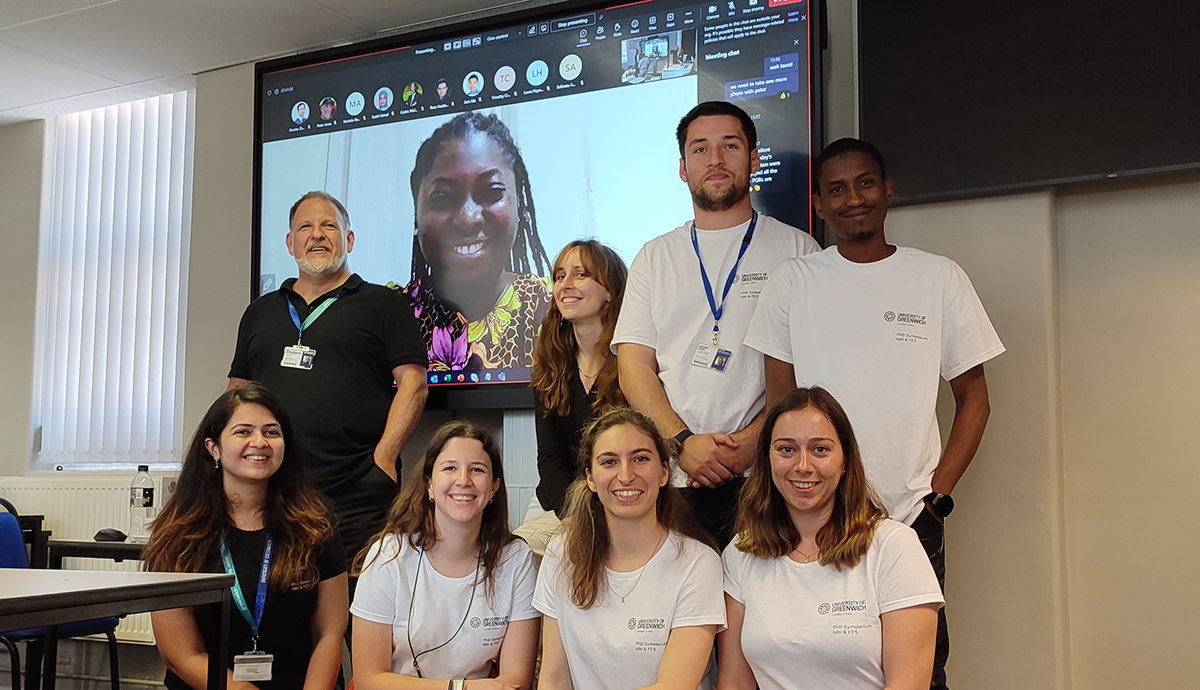 The symposium, which has been running for 6 years, was created to provide a platform for PhD students at the NRI to share their research with peers and supervisors and get constructive feedback in a relaxed environment.
For the first time, the symposium opened its doors to participation from PhD students from other schools. PhD students from Science, Engineering, Computing and Mathematical Sciences and Medway School of Pharmacy all based at the University of Greenwich's Medway campus, joined their peers from the NRI at the event. First year PhDs gave three minute 'turbo talks'— topics ranged from pharmaceutics and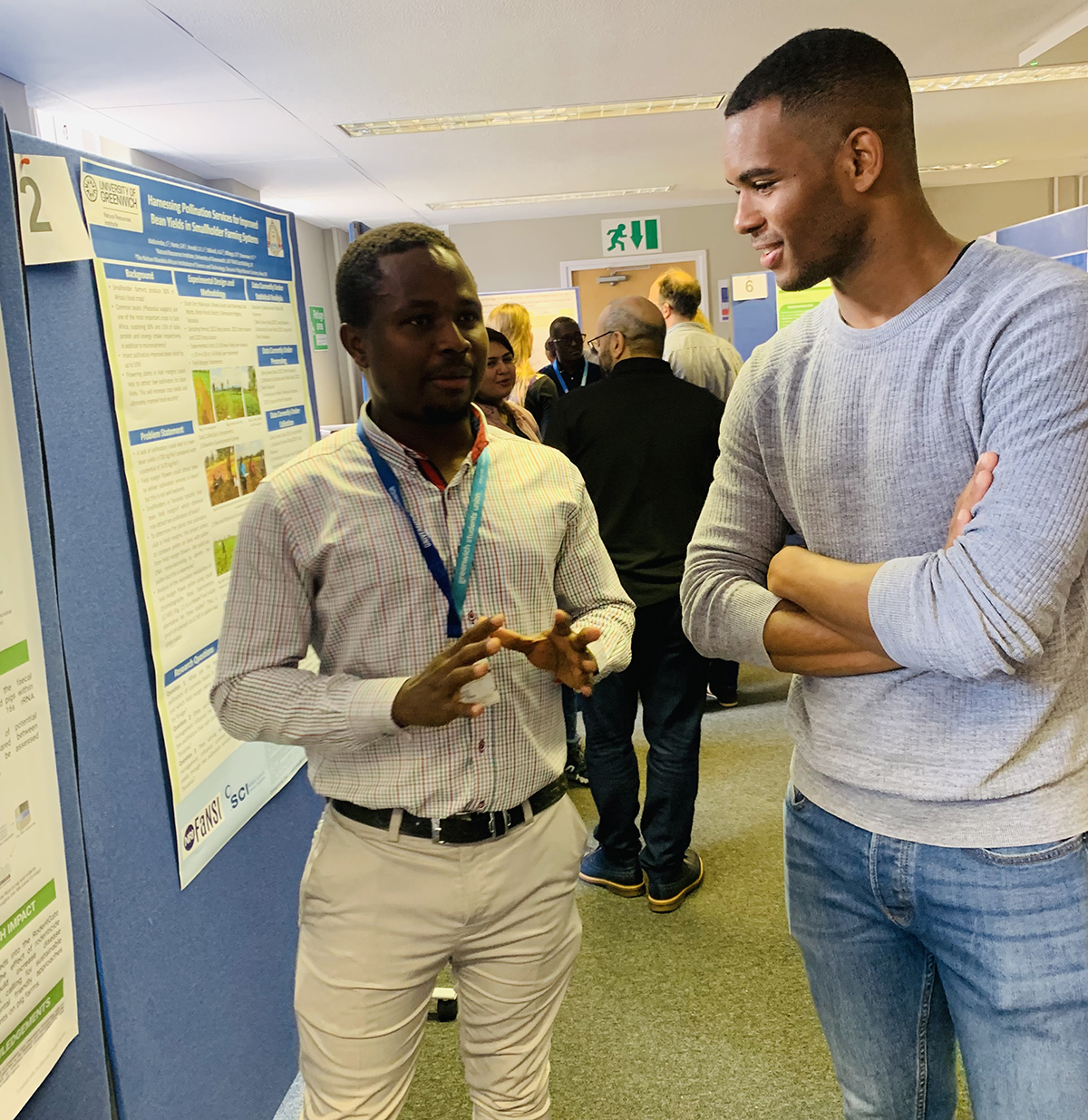 pharmacology, malnutrition management to food networks, environmental sustainability, and gender-based violence in agri-food systems —while second years presented posters. Third year PhD students each gave 10-minute talks on their research, ranging from artificial intelligence, product design and materials science to sustainable development.
In his opening remarks, Prof Richard Hopkins, Head of Agriculture Health and Environment Department, recalled the challenges of pioneering this event with PhD students and expressed great satisfaction at the progress the symposium has made over the years. He stressed the importance of having such platforms to showcase the innovation, determination, and resilience of PhD students at various stages of their scholarly journeys.
This year's event adopted a hybrid format enabling remote participation from students who could not be physically present. These included Laura Utume, currently conducting laboratory experiments at the Hebrew University of Jerusalem, Rehovot, Israel; Lydia O'Meara, researching in Australia; Lizzie Saka researching in Malawi; and Leah Salm who is in Brighton. Future iterations of the symposium will continue to adopt this format to facilitate greater participation and knowledge dissemination.
Further, to encourage more participation and inspire quality dissemination of research results, students with outstanding presentations were recognised. Gauri Thapa (Investigating the genetic predisposition to COVID-19 and its contribution to long-term effects on human health), Apple Espino (A Systems Approach to Exploring the Potential of Wheat in Delivering the UK's Sustainable Diets, and Food and Nutrition Security) and Sam Bourne (Genetic and functional validation of two pore domain potassium (K2P) channels for pain) were awarded prizes for excellent presentations in the first, second- and third-year PhD categories respectively.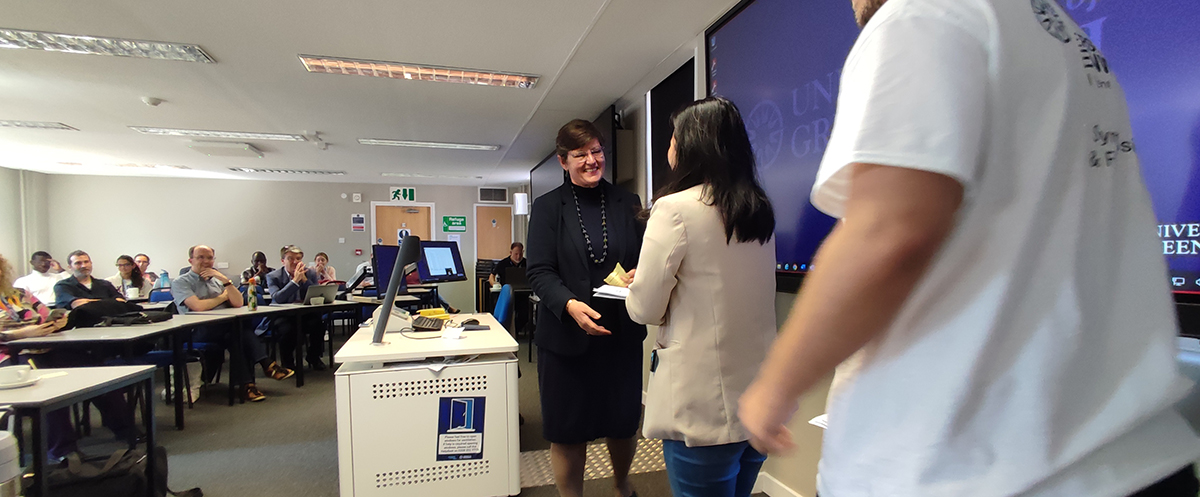 In delivering her closing remarks, NRI Director, Prof Sheryl Hendriks lauded the quality of the research that students were undertaking and encouraged them to keep up the good work. 'Effectively communicating one's research to an audience is the hallmark of a PhD and it is refreshing to watch presenters communicate their research and ideas with confidence', she remarked. She wished research students the best of luck as they carried on with their various PhD journeys and expressed conviction that upon completion, their PhD degrees will set them apart in their various fields of endeavour and communities.
The event concluded with outgoing NRIPS president Alexander Allman handing over to his successor, Laura Utume, whose vision is to improve the visibility and involvement of NRIPS (PhD student involvement) in NRI, thus further contributing to the core values and mission of NRI.