This year NRI participated in the European Symposium of the International Association of Food Protection (IAFP) which was held in Aberdeen, Scotland from May 3 – 5, 2023. The IAFP is the international association for professionals within the field of food safety. This year's theme was 'Advancing Food Safety Worldwide by providing members with a forum to exchange information on protecting the global food supply.'
The symposium has been a key event since its inception in 2005, providing an important platform for dialogue, learning and exchange of ideas to shape the future of food safety. 372 delegates from government, industry and academia from across the globe attended the event.
NRI was represented by nine academic staff responsible for teaching, research, and enterprise, as well as two PhD students. Both PhD students were sponsored through the IAFP and the Food Safety and Quality research group within the Centre for Food Systems Research. Delegates engaged with two plenary sessions, 14 seminars, four round table discussions, nine technical sessions and 163 poster presentations.
Using various posters and participation in a round table discussion, NRI showcased the teaching and research within food safety which is being conducted within the Centre for Food Systems Research. The round table discussion was entitled 'Creating capacity for the next-generation food safety researchers and implementers through international collaboration: Experience of Low-and-Middle Income Countries'. It addressed the complexity of food systems and associated challenges, and the importance of strengthening the core competencies of food safety professionals within Low-and-Middle income countries. The goal is to build their capacity to apply risk assessment, management and communication to the mass informal and traditional domestic markets where most of the population buy and sell food.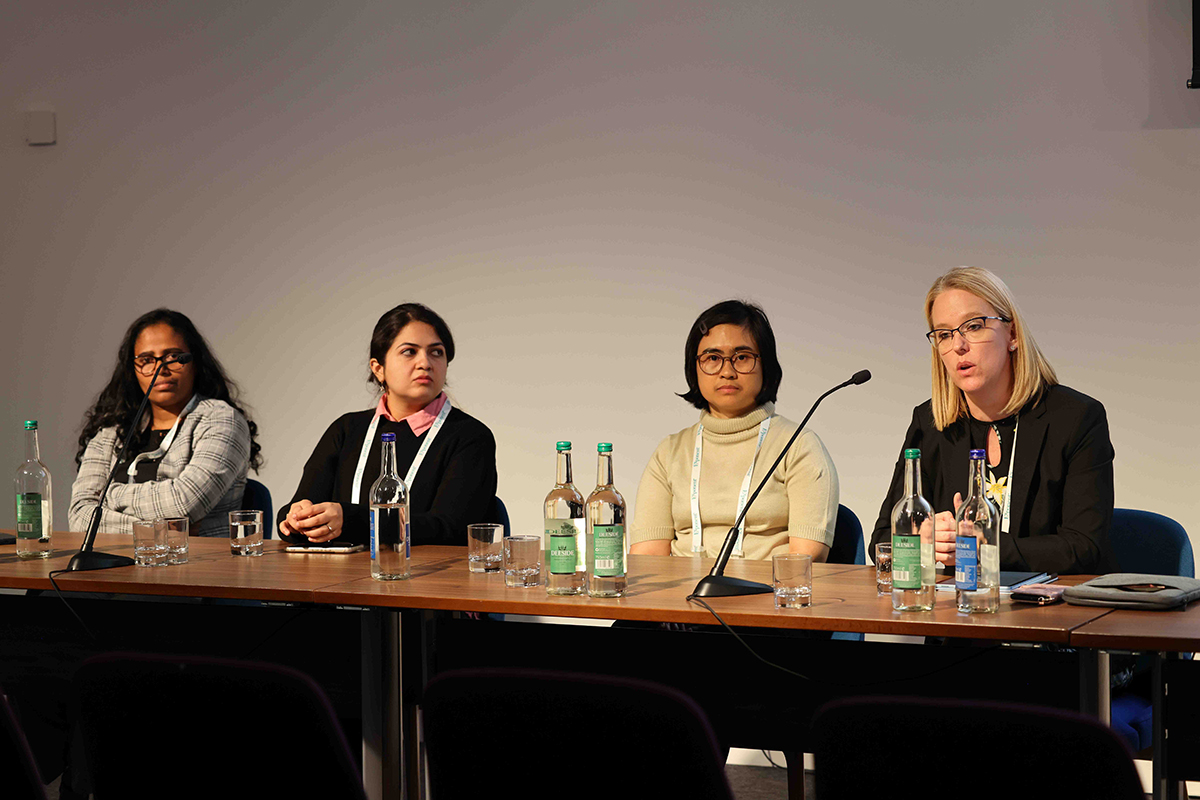 The roundtable was significant as historically, food safety education and research has focused on formal markets and export, drawing largely on the approaches that have been relatively successful in high income countries. However, these have so far failed to be widely applied or achieve food safety impact in informal and traditional markets. Two levels of food safety professionals were brought together in the discussion; researchers and educators with decades of experience in food safety were coupled with early-career professionals (PhD fellows) to consider core competencies needed for 'the next-generation food safety researchers and implementers.'
Relatedly, one of the posters presented detailed collaborative work with the University of Pretoria, South Africa on next-generation sequencing of antimicrobial resistant Escherichia coli, isolated from fresh produce from South African formal and Informal markets. This further highlighted the need for collaborative expertise to support Low-and-Middle income countries.
Other topics discussed at the symposium included: improving food traceability through global partnerships; food safety standards and improving HACCP team proficiency to strengthen food safety culture; food protection aspects such as natural antimicrobials and quantitative risk assessment; bacterial contamination in novel proteins; food-associated bacteria like Clostridium botulinum and Bacillus cereus; food safety myths and food safety knowledge, attitudes and perceptions.
The IAFP hosts two premiere meetings each year, the Annual Meeting in Northern America and the European Symposium. This conference would not have been possible without its four sponsors — Exponent, IAFP Foundation, Kerry and Neogen— and 13 exhibitors.
To find out more about:
International Association of Food Protection https://www.foodprotection.org/