The Baroness Bennett of Manor Castle hosted a reception for the Action for Animal Health (A4AH) coalition for key political and veterinary figures at the House of Commons on Tuesday 4 July, to mark the formal launch of a new report.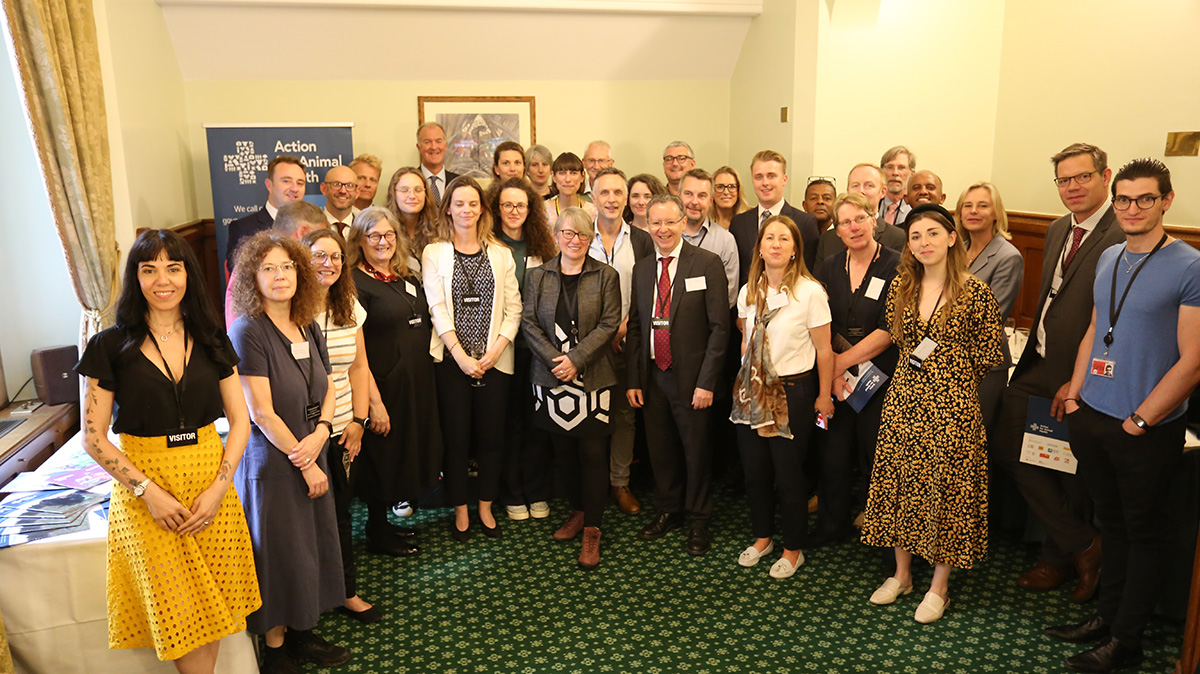 The report—The Case for Investing in Animal Health to Support One Health—calls on global governments to ensure stronger investment in animal health to prevent future pandemics and support One Health. One Health is an integrated approach calling for collaborative efforts at local, national and international levels to achieve optimal health for people, animals and our environment.
Over 75% of all new human infectious diseases come from animals, as highlighted by recent outbreaks of Ebola, avian influenza, and COVID-19. The report points out that risks to global human, animal and environmental health could be reduced with a stronger animal health workforce, better access to veterinary medicines, and improved disease surveillance.
The event was sponsored by former Green Party leader, Baroness Natalie Bennett. Speakers included Dr Klara Saville, Chair of A4AH, Dr Keith Sumption, Chief Veterinary Officer of the Food and Agriculture Organization (FAO) of the United Nations, Dr Simon Doherty, Vice-Chair of international development charity, Ripple Effect, and Dr Tewodros Tesfaye, Programme Manager at Brooke Ethiopia. Guests included representatives from the Foreign, Commonwealth and Development Office (FCDO) and the Department for Environment Food and Rural Affairs (DEFRA). Broadcaster Dr Scott Miller and MP Jim Shannon, the Democratic Unionist Party MP for Strangford also attended the launch.
"The Action for Animal Health Coalition brings researchers together with civil society and is an excellent platform for advocating for animals", Prof Delia Grace noted. Delia who is Professor of food safety systems at NRI contributed to the report.
Baroness Bennet said, "I was delighted to participate in the Action for Animal Health coalition's event in Parliament. As a strong advocate of systems thinking and joined-up action, I welcome A4AH's new report. It is time indeed that society recognises what scientists have been saying for decades now: there is only One Health." She stressed that we protect our own health by strengthening animal healthcare systems and addressing the planetary ills of pollution and biodiversity loss. "Ensuring a high standard of animal health globally is key to eliminating zoonotic spillover events that devastate human communities and result in vast quantities of medical waste. An ounce of prevention is worth a pound of cure, and I commend A4AH for the work they are doing to carry this banner", she added.
The devastating impacts of the COVID-19 pandemic have drawn the world's attention to the growing threat from zoonotic diseases, infectious diseases that spread from animals to humans. Several factors including urbanization, deforestation, wildlife exploitation, tourism, and climate change are changing how animals and humans live their daily lives and interact with each other. These factors have reduced or removed the barriers between the places where humans and wild animals live, bringing them into closer contact, and accelerating the risk of zoonotic disease outbreaks in humans. The United Nations has warned that more zoonotic diseases are likely to emerge as habitats are ravaged by wildlife exploitation, unsustainable farming practices and climate change, unless steps are taken to break the chain of transmission.