The name 'Steve Belmain', Professor of Ecology at NRI, is synonymous with rats, mice and any rodent that is a serious pest capable of destroying crops, contaminating food, damaging infrastructure, and transmitting dangerous diseases to people and animals. For over 20 years, Prof Belmain has been carrying out research on the biology and behaviour of dangerous rodent pests, and providing advice, training and guidance on the sustainable management of rodents to a number of intergovernmental organisms and national governments where rodent pests are a severe problem.
Prof Belmain's work includes training more than 50 Master's and PhD students across the world to form a new generation of rodent experts. This impressive body of work was recently recognised at the 7th International Conference on Rodent Biology and Management (ICRBM) in Arusha, Tanzania, where Prof Belmain was awarded a 'Lifetime Recognition of Excellence' Award. NRI heartily congratulates Prof Belmain on this well-deserved achievement.
The text on the award reads:
"Lifetime Recognition of Excellence
Awarded to
Prof. Steven Belmain
In recognition of his international scientific leadership in rodent biology and his untiring efforts in promoting the ICRBM around the world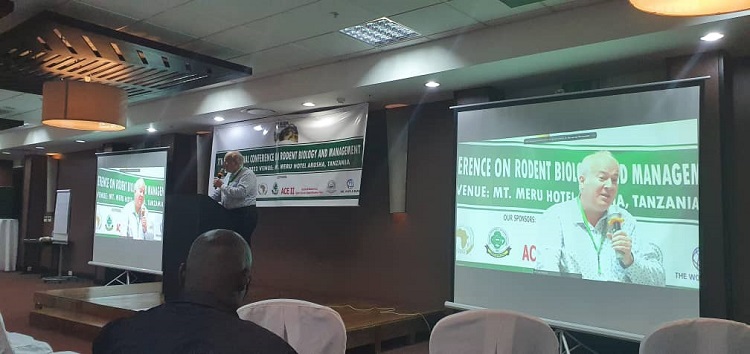 Prof Belmain has, through his work with rural farming communities in Africa and Asia, helped to resolve pest and disease problems by developing sustainable management solutions that are cost beneficial and environmentally sustainable, and has championed the need for ecologically based management of rodent pest problems based on good ecological science. He has stimulated numerous researchers throughout Africa and elsewhere to follow the same path.
He continues through his work at the Natural Resources Institute, University of Greenwich, to improve the livelihoods of smallholder farmers through effective management of rodent pests and an increased understanding of the diseases carried by rodents."
Prof Belmain was joined on the podium by two colleagues who also received Lifetime Achievement Awards – Professor Rhodes Makundi and Professor Apia W. Massawe, of the Africa Centre of Excellence for Innovative Rodent Pest Management and Biosensor Technology Development/ Institute of Pest Management at Sokoine University of Agriculture in Morogoro, Tanzania.
The awards were presented by Prof Grant Singleton, Visiting Professor at NRI, with whom Prof Belmain and colleagues have a long history of collaboration on projects and supervision of PhD students.
The theme of the conference was 'Rodents and science: connecting across ecosystems', with many presentations highlighting current research trends including diseases and zoonoses (in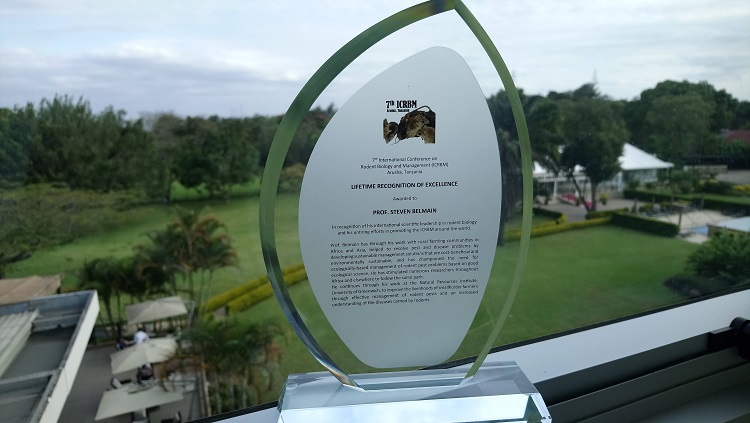 light of global pandemics), alternatives to rodenticides for sustainable control, climate change and changing environments, and biodiversity and conservation of highland habitats.
Other research trends were echoed by plenary speakers including Dr Cindy Fast, Head of Training and Behavioural Research, APOPO, Tanzania, who presented on 'Rodents as biosensors and the HeroRat programme', detailing work using rodents to locate land mines; and Dr Giovanna Massei, Director of the Botstiber Institute for Wildlife Fertility Control Europe and Animal and Plant Health Agency, United Kingdom who presented on 'Recent research on the fertility control of rodents' – including the grey squirrel in the UK.
In addition to the awards and the exciting research presented, this face-to-face conference gave participants the chance to travel and to return to having inspiring discussions around coffee time with their peers – an interaction and source of new ideas that has been greatly missed throughout the pandemic.
Links:
7th International Conference on Rodent Biology and Management (ICRBM)th7th International Conference on Rodent Biology and Management (ICRBM)