One of the biggest challenges in relation to food is managing loss and waste, not just in homes, but throughout the food system from pre-production to consumption. In August, Kew Gardens hosted a panel discussion as part of its 'Food Forever' series of evening talks, on how food loss and waste relates to the way we live in the 21st century, and what can be done to combat it.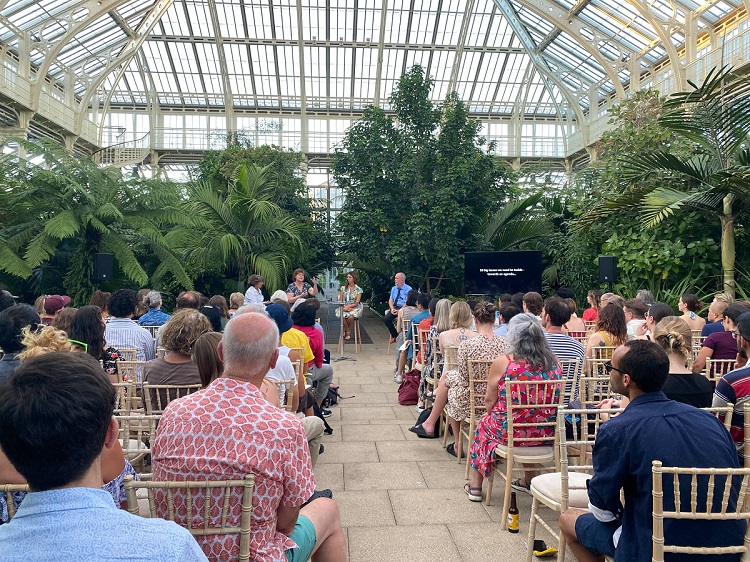 NRI's interim director, Professor Ben Bennett chaired the discussion titled - 'Food waste(d) – how can we feed our cities?' - which took place in the leafy environment of Kew's Temperate House. It was the sixth in a planned schedule of eight discussions, all of which aim to explore the future of food in the wake of the climate and biodiversity crises.
Ben Bennett leads the Centre for Food Loss and Waste Reduction – FloW – at NRI, which focusses on measuring and finding solutions to postharvest losses in food systems across the developing world. He's also a board member of the Africa Postharvest Loss Information System funded by the Bill and Melinda Gates Foundation and was co-author of the World Bank report "Missing Food".
Panel guests comprised Carolyn Steel, a writer whose work includes the award-winning Hungry City: How Food Shapes Our Lives (2008) and Sitopia: How Food Can Save the World (2020); Kaajal Modi, a multidisciplinary designer, artist and creative researcher who's working through material practices of fermenting and crafting in order to engage diverse communities into discussions about the future of culture, technology and ecology, and Louisa Ziane who set up Toast Ale in 2015, a 'planet saving' brewery that makes beer out of leftover bread.
The discussion centred around the state of our food systems now and the scale of the problems we are facing in terms of food security in the UK and globally. Questions were raised over whether the issue of food loss and waste is an individual, or a systems and governmental problem to solve, and the panel members introduced examples of solutions and how they might contribute to feeding our global and increasingly urban, population for decades to come.
Professor Bennett says: "It was fascinating to discuss this complex problem from different perspectives: art, culture, enterprise, cities, but also to address new challenges such as a gendered view of food loss and waste and the important issue of de-colonising food system globally."
There are two more talks planned in this series; 'A healthy body for a healthy planet' on 25th August, and 'Transforming our food systems for tomorrow' will close the run on 8th September.
To find out more about:
Natural Resources Institute FLoW