Growing Kent & Medway has announced £3 million in R&D grants for projects that support inclusive economic growth and environmentally sustainable practices and innovations.
NRI and the wider Faculty of Engineering and Science of the University of Greenwich are part of the consortium of partners that make up Growing Kent & Medway, an initiative focused on strengthening Britain's horticulture, food and drink industries through research, innovation and enterprise.
Funding grants of up to £250,000 will be made available to assist projects that aim to develop green technologies, processes or products for horticultural food and drink businesses across Kent and Medway.
A unique requirement of the funding application will be an expectation that businesses commit to delivering social value back to the region. Whether through community engagement or by raising awareness around career pathways in horticulture, food production or AgriFood technologies.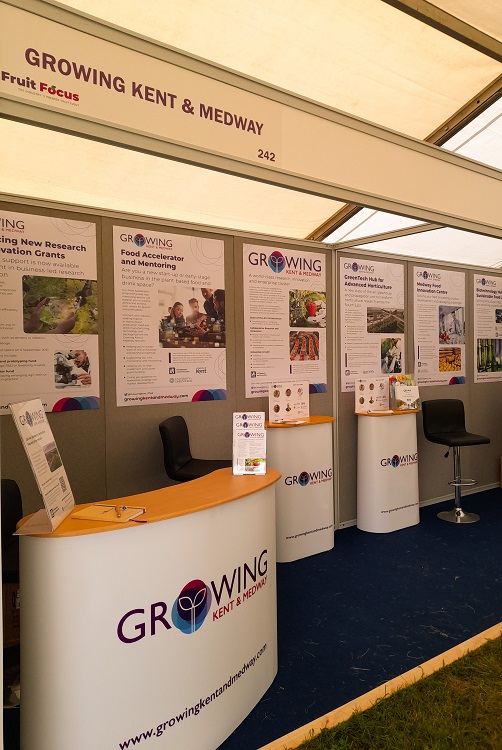 The grants were announced as part of Growing Kent & Medway's official launch at Fruit Focus on Wednesday 21 July 2021. They offer businesses operating in food production, packaging, processing or enabling AgriFood technologies the first opportunity to benefit directly from the programme.
Dr Nicola Harrison, Programme Director for Growing Kent & Medway, said: "The large-scale collaborative R&D grants we are making available will be awarded to projects that will help to establish the Kent and Medway area as a world-leader in climate-smart, sustainable horticultural food and drink production.
"These grants are an important part of our wider programme to build on the region's reputation and international gateway status. We are investing in state-of-the-art infrastructure and research facilities, scientific expertise and enterprise growth to make this region one of the most dynamic, competitive and successful horticultural and agri-tech locations in the world."
Priority innovation themes set out for the grant funding include:
Minimising waste and maximising recycling
Improving resource use efficiency and sustainability
Increasing productivity
Resilient food production, such as supply chain resilience and nutritional security
Precision technologies, including sensor technologies, AI or robotics
Solving the challenge of access to labour.
Oliver Doubleday, Chair of East Malling Trust, said: "Funding for research and innovation to support the horticultural industry has been at the heart of the Trust's work for more than a century.
"Thanks to Growing Kent & Medway's grant scheme, it will ensure the sector can make an even greater contribution to the development and sustainability of the local economy through the commercial application of science and research."
Applications are open from 6 September 2021 only for Kent or Medway-based businesses, or those carrying out significant economic activity in the region, working in horticultural food and drink sector or enabling technologies.
Prof Andrew Westby, Director of NRI, said: "COVID and the climate crisis have brought greater challenges to agriculture and food systems. Through NRI's research in crop protection, post-harvest storage, value addition and food innovation, we support local economic growth by working with businesses and partners to become more profitable, resilient, sustainable and future proof. The grants programme announced today will boost businesses in Kent and Medway and strengthen partnerships with the University of Greenwich,"
For more information about the grants and to find out how to apply, visit growingkentandmedway.com
Growing Kent & Medway is supported by government funding provided through UK Research and Innovation's flagship Strength in Places Fund.
For all press enquiries, please contact Lauren Colagiovanni, Senior Communications Manager, Growing Kent & Medway: lauren.colagiovanni@niab.com or 07793 765844.

About Growing Kent & Medway
Growing Kent & Medway is a world-class research, innovation and enterprise cluster. It connects businesses in the region to support innovation and to establish the area as a world-leader in sustainable horticultural food and drink production.
The programme brings together innovative growers and processors, scientists, technologists and entrepreneurs to stimulate research, innovation and business growth. It invests in state-of-the-art infrastructure, collaborative research and innovation, and enterprise growth.
The programme is led by NIAB EMR (the UK's largest horticultural research and development centre in East Malling). Additional research and commercial partners include: University of Greenwich, University of Kent, Locate in Kent, APS Group, Berry Gardens, Chapel Down, Geku Automation, Gusbourne, RH Group, Smurfit Kappa, Thanet Earth, The Kent and Medway Economic Partnership, Worldwide Fruit.

About UKRI Strength in Places fund
Led by UK Research and Innovation, Strength in Places Fund is a competitive funding scheme that takes a place-based approach to research and innovation funding, to support significant local economic growth.