PhD student Lydia O'Meara, was recently awarded a prestigious ECR – Early Career Researcher - development scholarship, from the Nutrition Society of Australia, for her BSc work helping rural Fijians grow, buy and consume healthy food. Now a first year PhD student at NRI, Lydia will use the funding to travel from her native Australia, to Tokyo - Covid-19 restrictions permitting - to present her early PhD results at the International Congress on Nutrition in September 2021. Lydia takes up the story.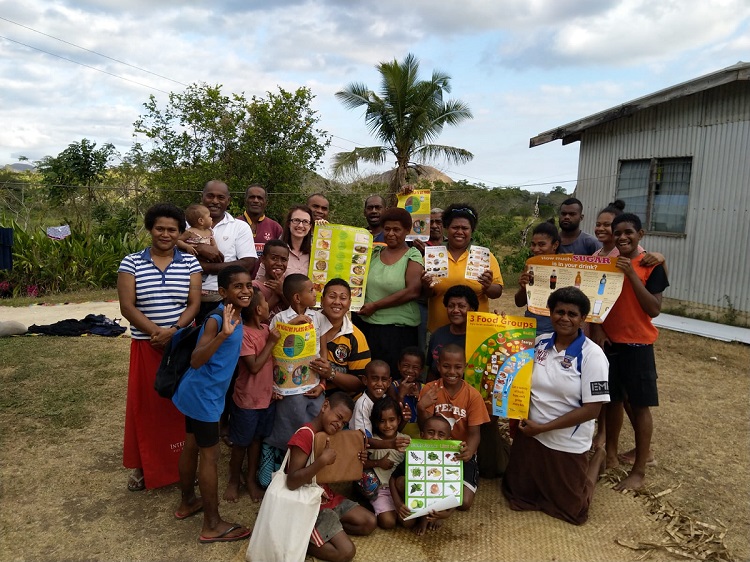 The ECR scholarship is extremely competitive as it's judged on how translatable the research is to communities and local communities' needs and its relevance to improving nutritional health – that's my field – so I really had to demonstrate that to win it.
My work in Fiji for the Australian Aid ACIAR (Australian Centre for International Agricultural Research) vegetable cropping project, was unusual in that I invited representatives from the Fijian Ministries of Health and Agriculture to come with me to the rural villages and I also worked closely with a Fijian co-researcher from the Secretariat of the Pacific Community. A lot of agricultural projects had previously conducted similar work in Fiji, but my approach as a social scientist - to mix social science with government on the ground - was a first, and it made a huge difference.
In these rural areas a lot of what is grown is traditional; fruit, vegetables including green leafy veg, all eaten with fresh fish. This has served Fijians very well in the past, but an influx of western food, high in sugar, salt and fats has led to a deterioration in health. As a result, diabetes is now a massive problem and Fiji has one of the highest death rates per capita for type II diabetes in the world.
My research involved talking to rural communities about what crops the local farmers were growing, and then what people were actually eating, and we were able to look at the disconnect between the two. We enjoyed very straightforward and frank conversations about what might be the barriers to people eating healthier food.
For example, the farmer might say, "well we can grow x, y and z, but not a, b and c", and we could see that there was a gap. We could then continue that conversation with the Ministry of Agriculture because they were there in the room and they had the opportunity to say, "oh well we could maybe adjust the type of seeds we distribute, or the training we give so we could help facilitate some of those food gaps", so it was unique in that we could achieve near instant responses.
The district nurses also came into the focus groups to help facilitate the discussions and that was unusual too. The nurses have strong relationships with the villagers because they visit regularly, so everyone knows and trusts them.
In Fiji, a middle-income country, most health resources are scarce and a lot of time and money are committed to dealing with vaccination programmes, and treating chronic diseases such as diabetes.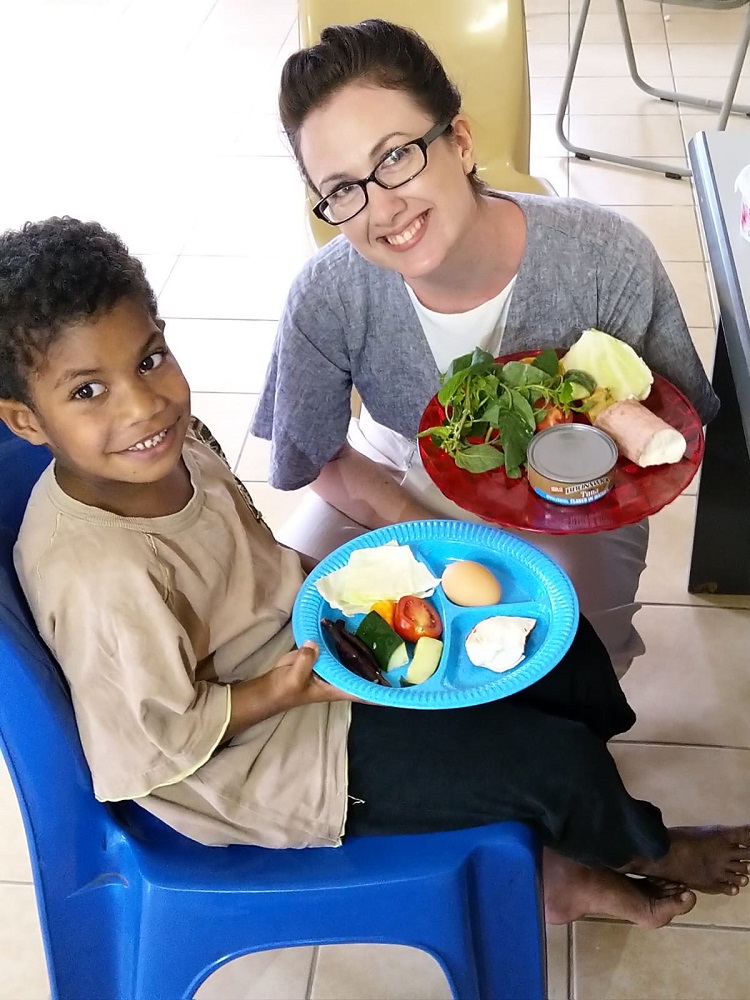 Fijians know and understand the importance of prevention – ie following a healthy diet and lifestyle, but they don't necessarily have the opportunity or the resources to go out and talk to or support the villagers to achieve it. Working with the Australian Aid ACIAR vegetable cropping project we were able to add to that dimension. We could start and then facilitate that conversation on the ground so the health workers could take that on and identify the gaps.
It's so important that solutions are sustainable once the project moves out – the local ministries have to be able to continue the work. In Fiji, the cost of treating someone with diabetes is extremely expensive; the government can only commit to being able to supply a certain number of years' worth of insulin and after that, people have to buy their own.
If we can create and support this healthier food environment where we help people eat and live healthily and prevent them getting diabetes, or chronic heart disease for example, then this is so much more cost-effective in the long term.
After finishing my work in Fiji, I moved to Malaysia and worked with WorldFish CGIAR (Consultative Group on International Agricultural Research) and it was here that I met Julia de Bruyn who is now my primary supervisor from NRI. We share mutual research contacts examining the contribution of fish to food and nutrition security to rural populations in sub-Saharan Africa.
It was my work with WorldFish that led to my interest in food systems for nutrition in sub-Saharan Africa and why I applied for the advertised PhD scholarship with Julia at NRI. I started my PhD in April 2020, just as international Covid lockdown restrictions came in. I'd applied for my visa and was just preparing to move from Queensland Australia, to Medway when everything came to a halt.
At the moment my PhD is entitled, 'The role of food environments in enabling healthy, sustainable diets for rural women and young children: insights from Uganda'. The upskilling opportunities afforded by the ERC scholarship mean I might be able to incorporate new methods into my PhD programme.
Being awarded this scholarship will give me an opportunity to continue presenting my work at high-level conferences. Usually doing a PhD you'd wait until the end for your different data to come in before giving your presentations. But this award will enable me to have some of those conversations earlier on in my PhD and I'll be able to network with experts in my area and learn from their presentations about the methods they're using, which I could then integrate into my PhD work.
Being able to go to a conference and see what other people are doing in low and middle-income countries will allow me to capture those different dimensions with qualitative and quantitative tools, and will enrich my work hugely.
To find out more about:
Nutrition Society of Australia
International Congress on Nutrition