Dr Frances Hawkes, Research Fellow at NRI, is being featured in 'Greenwich Portraits at Medway' – the initiative launched by the university's Alumni department that profiles and celebrates Greenwich University's most influential and inspiring alumni through a series of striking photographs. Frances' portrait, taken by photographer Diane Patrice, was unveiled at an event on the evening of 21st November at the university's Medway campus, where the Vice Chancellor, Professor David Maguire, opened proceedings. "We are really excited to include Frances in our latest installation," says Sarah Cretch, Head of Alumni and director of the Portraits project, "especially as her portrait highlights the world-changing work being carried out at Medway."
Frances' work is all about applying science to solve problems. From local to global issues, Frances is able to devise real-world solutions and deliver a final product or piece of research that has the potential to improve lives. She embodies the university's values of ambition, creativity, excellence and determination, whilst her work echoes NRI's ethos of using specialist knowledge and experience to help poor communities in the developing world.
From Medway to Greenwich
After completing her A-levels at Rochester Grammar School, Frances was undecided about studying at university, and so began work in a financial role across local authorities in the south east, where she also completed an Open University correspondence course in natural sciences. This propelled her to apply to university and she found her local university at Medway – Greenwich – to be both welcoming and accessible, particularly for a student like her, who hadn't taken the 'traditional' higher education route.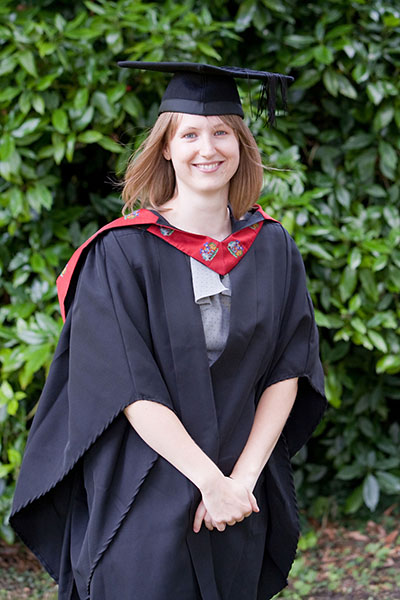 "I enrolled onto the BSc Hons in Environmental Science, knowing it was one of the best in the country, and found that my classmates were an interesting mix of mature and younger students, people who'd worked in industry or the corporate world, and people with families or jobs," she remembers. "They brought a wealth of academic, work and life experience that really enriched the learning environment." Importantly, it was here Frances really began to value the importance of taking opportunities when they arise, and creating her own opportunities.
During her undergraduate degree, Frances co-founded the Student Environmental Society and successfully lobbied for a full-time sustainability officer and for allotment facilities for students. Four years later, Greenwich was named the 'greenest university' by People and Planet. Frances' BSc dissertation not only won the Merit Award for Outstanding Achievement and the prize for best dissertation in the School of Science, it was published in the peer-reviewed journal 'Local Environment' – an exceptional achievement for an undergraduate student. "That was where I began to see that research is both fascinating and powerful," says Frances, "and that it could be the path for me. So when an opportunity arose to do a PhD in Medical Entomology at NRI, I applied".
From Medway to Africa
Her successful application earnt her a prestigious VC Scholarship for a PhD project on mosquito behaviour. "I could see the potential to use knowledge to understand malaria transmission and to use this knowledge to make a real impact on people's lives," she explains. Frances carried out her fieldwork in Burkina Faso, West Africa, taking her ideas from the lab to the field to test their efficacy. This marked the beginning of a successful and ongoing collaboration with scientists from the Health Sciences Research Institute of Burkina Faso.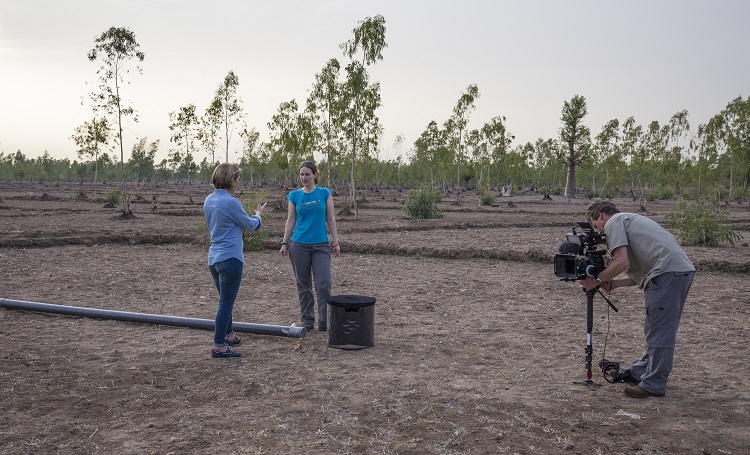 During her PhD, Frances presented her research to Parliament, funded and ran 'bug safaris' for children in Medway, successfully designed and built an app with peers that was picked up by the UK's Field Studies Council, and launched a club for NRI PhD students to develop professional skills outside their research area. Little wonder she was the inaugural winner of the university's 'Student of the Year' award in 2012.
From Medway to the world
Her ensuing career has taken her around the world, carrying out fieldwork in countries including Benin, Brazil, Burkina Faso, Cameroon, Kenya and Malaysia, participating in international conferences, winning awards and research grants, and appearing in the media. Her work was also featured in a BBC documentary called 'Living with Malaria' with a short version of this film winning the video segment of a contest run by the Swiss Malaria Group.
A recent example from Frances' career involves developing a mosquito trap that mimics human characteristics – an innovative solution against malaria which affects over 200 million people every year. This pioneering 'Host Decoy Trap' has collected nearly ten times more mosquitoes than the next best alternative method. "This is a major breakthrough," says NRI's Professor Gabriella Gibson, who leads the project funded by the Medical Research Council, adding, "Frances' dedication to a high standard of science and to tackling serious issues of poverty in developing countries provides inspiration to her colleagues and students, and reflects well the mission of NRI and the University as a whole."
"Since her success as an award-winning undergraduate student, I have followed Frances' career with great interest," says Professor Martin Snowdon, Pro Vice-Chancellor for the Faculty of Engineering and Science. "I have every confidence that she'll continue to lead pioneering research." Frances is currently involved in other major research projects including 'WetlandLIFE', a highly interdisciplinary project that brings together social scientists, ecologists, environmental historians, artists and economists to understand the values associated with wetlands in the past, present and future. The project is led by Dr Tim Acott, of the Faculty of Architecture, Computing and Humanities, and Director of the Greenwich Maritime Centre; Dr Acott was Frances' tutor for her BSc.
Frances also teaches on our undergraduate degrees in Geography, Environmental Science, and Biology BSc/MBiol, where her energy, enthusiasm and experience are inspiring the next generation of research scientists to solve the world's biggest problems.
"Frances is an inspirational and valued colleague whose research and teaching make a significant contribution to the work of the Natural Resources Institute," says Professor Andrew Westby, Director of NRI. "I am delighted that she has been included in the Greenwich Portraits project providing an example of what is possible following study with us and the life-changing research that colleagues in the Institute undertake."
Frances and the Greenwich Portraits at Medway were featured in this report on KMTV.
Frances' portrait can be seen in the lobby of the Pembroke building, Medway campus, and also forms part of a gallery of portraits located in the café on the ground floor of the same building.