Can you imagine sweet potato crisps suffused with seafood curry, lime and coconut or thyme and chilli? Or if you have a sweet tooth, how about some energy-packed sweet potato breakfast bars, combining exotic mango and passionfruit, or chocolate and chilli…? This is just a small sample of snacks developed by NRI students as part of their Master's programmes this year. Recently, students had the opportunity to showcase their work at a product development event at NRI, where guests from the Kenya High Commission in London and the Kenyan sweet potato industry sampled the innovative products.
The students, from NRI's MSc in Food Safety and Quality Management and the MSc in Food Innovation programmes, were given a seven-week challenge as part of the 'New Product and Process Development' course led by NRI Food Safety Specialist, Julie Crenn. The challenge was to investigate value-added products made with white-fleshed sweet potato from Kenya, and to develop new sweet potato products for a UK or international market.
The sweet potatoes were supplied by SACOMA, a company which promotes the export and commercialisation of Kenyan sweet potatoes and supports smallholder farming. Linda Nicolaides, leader of the Food Innovation programme, explains, " The CEO of SACOMA, Perez Ochieng got in touch with me to ask if our students could use sweet potatoes as the basis of two specific products: an energy or breakfast bar, and luxury crisps." Perez Ochieng came to NRI to explain the challenge further and to give students their product 'brief', including the requirement that their products had to reflect flavours from their home countries – a fitting requirement, seeing that our students come from a wide range of countries, representing a varied menu of flavours.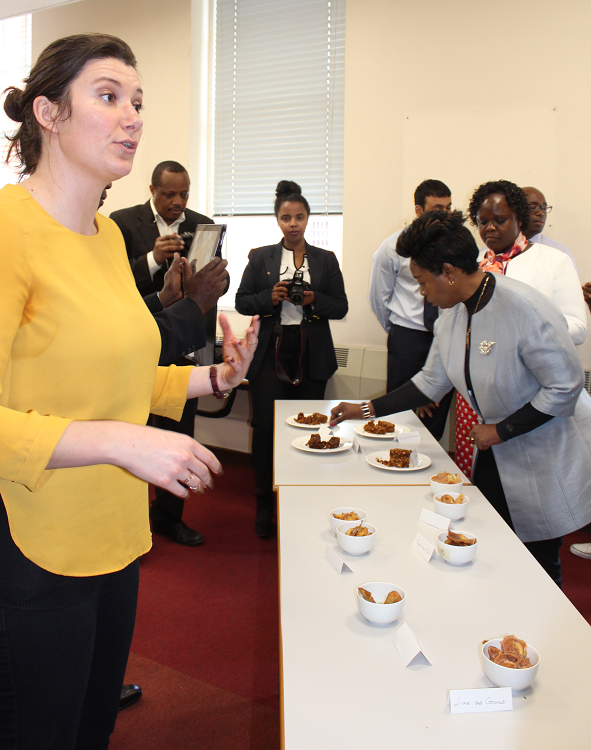 The students were fired up by this challenge. "I've learnt something about Africa, the incredible story behind the sweet potato, and how buying products made from these sweet potatoes will help people's livelihoods," said one student, whilst another commented, "I have so many ideas of what value to add to sweet potato; I'm really eager to start this project." Julie Crenn, who guided them through the process, said, "The students worked really hard to test their products, continually adjusting the process and ingredients to find the perfect texture and flavour."

The final flavours that were developed for the crisps were: Seafood curry by Funmilayo Alero Macauley, Nigeria; Lime and coconut by Dutsadeeporn Klaitae, Thailand; Dill and garlic by Maha Jarfan, Saudia Arabia; Thyme and chilli by Abdullah Alrayes, Saudia Arabia; and Basil by Serena Vincenzi from Italy. The energy bars contained a minimum of 70% sweet potato with the following flavours: Mango and passionfruit by Jonathon Farthing, UK; Chocolate and chilli by Fernando Warnakulasuriya Sadith, Sri Lanka; Coconut and banana by Kan Kulnguan, Thailand; Banana and mango by Hironori Kobayashi, Japan; and Orange and cinnamon by Emmanouela Marini, Greece.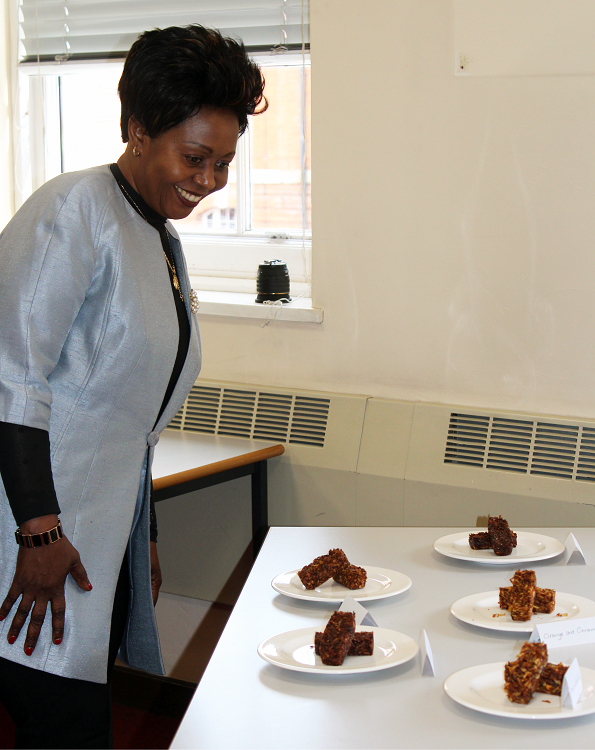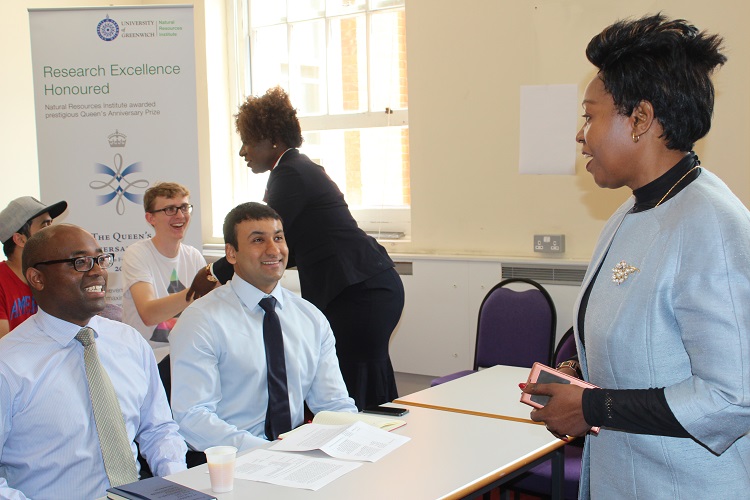 The students' eagerness and hard work was evident at the end of the seven weeks, when they had the opportunity to demonstrate their products to a select audience including visitors from the Kenya High Commission in London. The delegation was led by Ambassador Jackline Yonga, Deputy Head of Mission, who was accompanied by Beatrice Kirui, Minister for Agriculture and Agri-business in Bomet County, Kenya, where the sweet potatoes originated. Perez and Samuel Ochieng of SACOMA and Steven Kanyatte of All Africa Advisors were also in attendance. Prof. Andrew Westby, Director of NRI and Prof. Ben Bennett, Deputy Director of NRI, attended the meeting to promote NRI's work and experience with sweet potatoes and other root and tuber crops. In particular, it was noted that in previous collaborative efforts, NRI had supported SACOMA in setting up warehousing and postharvest technology storage and systems for sweet potato in Kericho, Kenya.
Linda Nicolaides, Julie Crenn and Dr Richard Fuchs, programme leader of the MSc in Food Safety and Quality Management, supported their students during the event.
The students were thanked by the Ambassador for the efforts they had put in to develop a wide range of products in such a short time. This project work will follow through into the next academic year and the products will be entered into the 2017 'Ecotrophelia' competition run by the Institute of Food Science and technology (IFST) – "a Europe-wide 'Dragons' Den'-style competition that challenges student teams to develop the best eco-innovative food products, which they then pitch to industry leaders." Watch this space!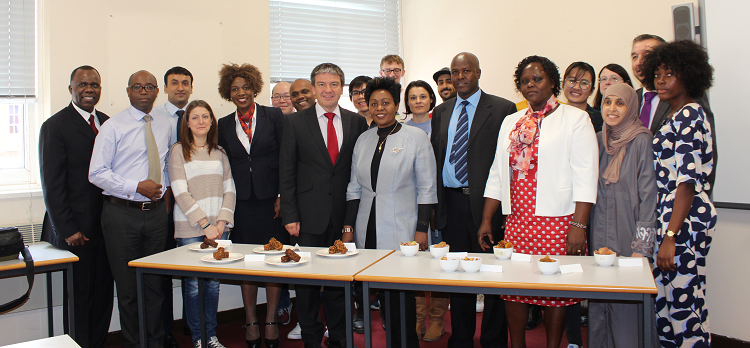 Links: Press Release from the Kenya High Commission | Video by SACOMA detailing the students' challenge | SACOMA website | MSc Food Safety and Quality Management | MSc Food Innovation