Are you looking for a food-focused Master's degree with real 'gourmet' quality? Look no further than NRI's MSc in Food Safety and Quality Management which recently gained accreditation from the Institute of Food Science & Technology (IFST), the leading qualifying body for food professionals in Europe and the only professional body in the UK concerned with all aspects of food science and technology. The Natural Resources Institute at the University of Greenwich is one of the first institutes in the country to receive IFST accreditation, ensuring that our students are receiving the best of what is on offer in food-related education.
The MSc in Food Safety and Quality Management gives students a comprehensive view of the measures required to ensure the supply of safe and wholesome food to consumers. In a world facing the enormous challenge of feeding over 7 billion people, the importance of supplying safe and wholesome food cannot be exaggerated. NRI's teaching staff use their unique academic expertise and industry knowhow to put this challenge into a context of the global development of the food sector, increasing requirements from the industry and consumers for food that is both safe and of high quality, against a backdrop of new, emerging foodborne threats to consumers and increasingly globalised markets. Another challenge facing the food sector is the shortage of suitably trained professionals who can use their expertise to address these problems; this programme aims at meeting this need.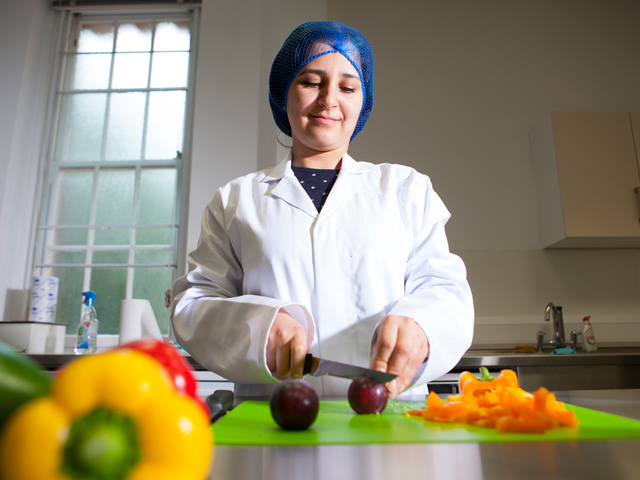 The MSc in Food Safety and Quality Management equips students with specialist skills and knowledge to work in various parts of the food sector. The degree's 'full menu' features an ample array of food safety and quality management topics following the 'farm to fork' approach, including: good governance and national control systems, food inspection and testing services, legislation and private standards, and management of food safety and quality along the supply chain.
Students on this programme become associate members of the IFST and will also have the opportunity to enhance their skills by taking the Level 3 qualification in Hazard Analysis and Critical Control Point (HACCP) for Food Manufacturing, awarded by the Royal Society for Public Health. Being a graduate of this IFST-accredited MSc programme will also give students a distinct advantage when they seek employment in the food sector. Our graduates have successfully gone on to secure jobs in food quality assurance, technical management, product development, food policy, inspection and enforcement, food analysis, and postharvest handling and storage, as well as in academia and research.
Apply today and begin your journey to stand out from the crowd in the food sector. Programmes begin in January and September. For further information, contact: Dr. Richard Fuchs, Programme Leader of the MSc Food Safety & Quality Management
Links: IFST