Dr Ibrahim Mohammed, a recent PhD graduate from the Natural Resources Institute (NRI) of the University of Greenwich was awarded the 'Raymond/Roger Hull' prize for best poster presentation at the International Plant Virus Symposium, of the Association of Applied Biology (AAB) in Dublin last week.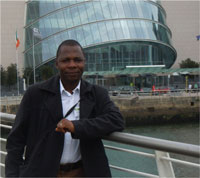 Competing with early career scientists from across Europe, Dr Mohammed presented part of his PhD research on exploiting modern technologies to cure cassava plants infected with cassava brown streak virus disease (CBSD) as a means of generating healthy plants to boost crop production. His poster, for which he won the prize, highlighted the application of tissue culture technology, in particular the use of chemo- and thermo-therapies to cure virus infections in up to 50% of previously infected cassava plants.
When applied in the field, the technology developed by Dr Mohammed will make a significant contribution in providing virus-free planting material to farmers and will thus reduce the impact of CBSD, a virus that is affecting the livelihoods of over 100 million people in eastern Africa.
Dr Mohammed is a farmer from Nigeria and after working for a while in the Nigerian Ministry of Agriculture he decided to undertake a Masters course at NRI. His success at Masters level meant he was one of only a handful of students to be sponsored by his government to study for a PhD at the Institute. He now intends to be a lecturer in agriculture once he returns to Nigeria and to put his research into practice.
Dr Mohammed said "Im extremely happy to win this prestigious prize for my poster at the AAB conference; I feel honored and highly elevated. My next mission is to return to Nigeria and I hope to follow a great career path in Agriculture that I know I will continue for years to come. I was lucky to be trained under fantastic people at NRI, and I cant thank my supervisors Dr Maruthi M N Gowda and Dr Rory Hillocks enough for their invaluable support which helped me get through a tough but amazingly rewarding experience."