NRI's Dr Noushin Emami, Associate Professor of Bioinformatics, won a Stockholm Innovation award at the end of 2020, for her work on a novel and environmentally sustainable mosquito control product. The award, given by the City of Stockholm, is intended to stimulate creative people to move forward with their innovation.
The mosquito is the deadliest creature on the planet, infecting and killing over a million people every year. Traditional insecticides for pest control are harmful, as they not only destroy biodiversity in delicate and vulnerable ecological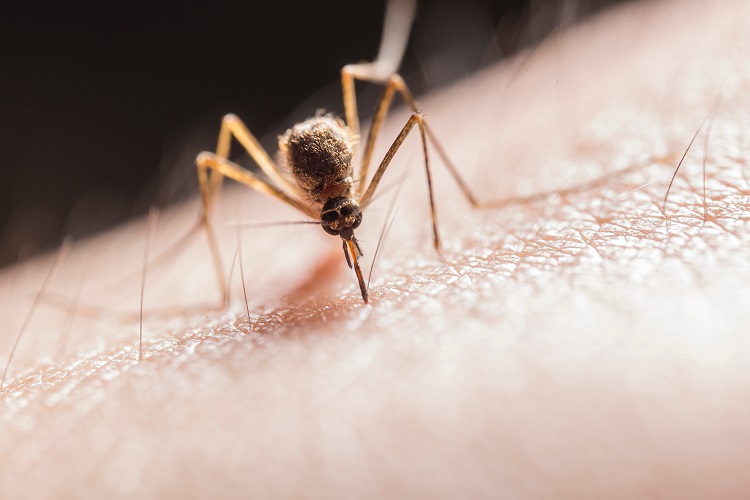 niches, but also negatively impact human health, which has recently prompted the E.U. to ban many of the most harmful pesticides from the market. With climate change rapidly accelerating, the need for alternative solutions is now even more urgent. The ecological ranges of many mosquitoes will not only expand, but also introduce novel mosquito-borne diseases into new regions, including the US and Europe.
To solve this huge global issue, Dr Emami and her team identified and isolated natural compounds that target mosquitoes and modify their behaviour. She explains: 'female mosquitoes transmit diseases while feeding on blood and our methods harness this natural blood-seeking behaviour to our advantage. We have determined that malarial parasites manipulate a human host to produce a stimulant called HMBPP, which strongly attracts female mosquitoes and stimulates feeding behaviour, perpetuating parasite reproduction."
"We have isolated HMBPP from malarial parasites for use in mosquito control. Since only mosquitoes can detect HMBPP, combining HMBPP with natural mosquito toxins such as beetroot juice in a water-based spray, allows us to effectively attract and eliminate mosquitoes any place, any time.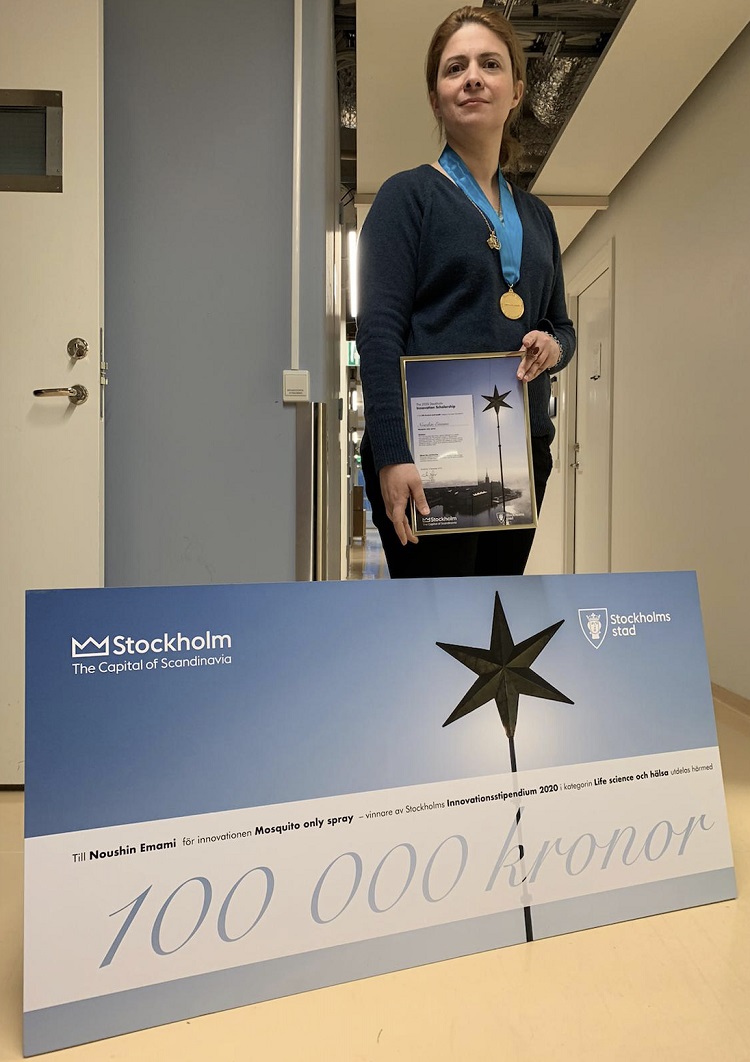 Compared with conventional mosquito control, this approach is highly targeted to the mosquitoes. HMBPP can be used in combination with a mosquito-only toxin, and therefore is not harmful to other organisms. This diminishes the risks of human poisoning and environmental contamination from insecticides, as well as negative impacts on other organisms.
On the significance of the work, Dr Emami says that it has huge potential to solve the global problem of malaria. "The HMBPP is an ultra-effective product – no other solution currently on the market solely targets mosquitoes and works for all kinds of mosquitoes. Overall, our product is novel, sustainable, and cost-effective, and we believe that by advancing commercialisation, we could finally win the battle against our small, yet deadly foe.'
The jury noted that Dr Emami and her team's innovation "…solves a global challenge in a scalable and sustainable way. The proposal is based on research from Stockholm University and has a good level of innovation with a low environmental impact. The innovation has the potential to positively change the lives of millions of people on our planet, by protecting them from the world's deadliest insect."
Speaking after the ceremony Dr Emami said: "A large number of great scientific inventions remain at the academic level, but if we are to make a positive difference, we need to make a strong connection between basic and applied science. My main scientific interest is to discover the communication codes between pathogens and their hosts and use the pathogens' tricks for enhancing its transmission to turn against the pathogen itself. Our findings and invention will become widely available and easily accessible, so that it may truly benefit mankind."
"We imagine in future, not only being able to eradicate mosquitoes but most importantly, rid the world of the significant suffering inflicted by infected mosquitoes."
Due to the pandemic, the scholarship ceremony was held as a live digital ceremony for the first time in the scholarship's 35-year history. Juries consisting of 32 experts from Stockholm's business and innovation systems evaluated over 160 innovations in five categories - 1. Simplify everyday life, 2. Cultural and creative industries, 3. Life Science and health, 4. Travel and tourism and 5. Social and ecological sustainability - and named the five most promising.
The winners will receive a scholarship of SEK 100,000 as well as access to innovation advice, marketing and networking opportunities.
To find out more about: