Rats pose a terrible threat to people in many developing countries. Dr Steve Belmain of NRI stated his case in a public lecture at Medway yesterday, that proper rodent management will reduce poverty and improve people's livelihoods.
The talk, 'Rats, Disease Outbreaks and their Impact/Management in Developing Countries', highlighted the extensive damage that rats can cause to infrastructure, crops and human health. With teeth that continuously grow and are kept sharp by gnawing, they easily chew through electrical wires, metal and concrete, whilst eating everything from hot chillies to rice and vegetables.
Steve said: "With rodents transmitting more than 60 diseases to people and domestic animals, damaging food production systems and exacerbating sanitation problems, few could argue that society's rat problems have been solved."
In Vietnam, rats can eat 30% of a farmer's rice field, but rodent damage has become a hidden problem in many areas of the world; it seems that having tried and failed so many times, farmers have given up trying to battle with the rats.
Rodent disease and their destruction of crops can lead to a debt treadmill for farmers and many desperate farmers have turned to illegal poisons, which are extremely dangerous to people and the environment. Their misuse has led to accidental deaths, especially among children.
Steve presented some findings of his work so far, advocating the need to understand the ecology of the rat's environment, and to train communities and experts in rodent biology and management. This knowledge of rodent biology and behaviour has led to the design of better control measures, including concerted community responses.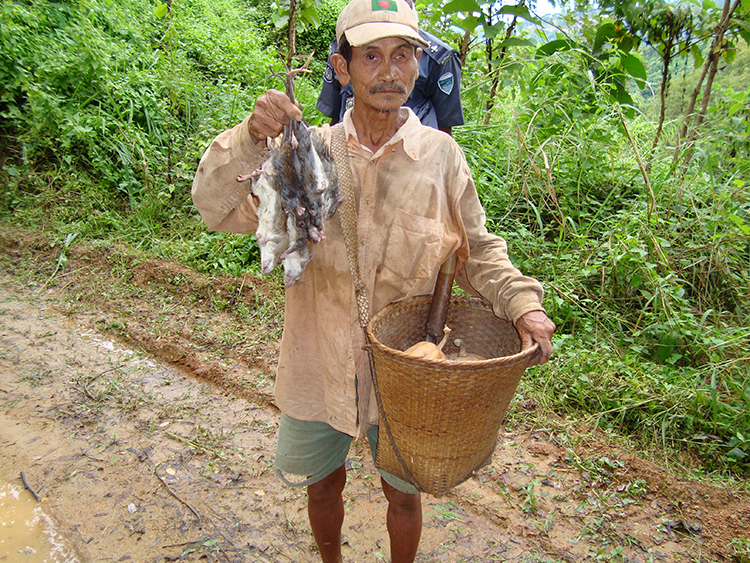 He mentioned several practical solutions, such as making buildings rodent-proof, using faster more sensitive traps, and improving food storage and sanitation. But noted that it is not just about reducing the rat population; we must also look for improvements in livelihoods based on sound ecological and sociological data.
Since joining NRI in 1998, Steve has become one of the leading international scientists researching rodents as pests and disease vectors. His research has been crucial in understanding the transmission risks of Lassa fever and plague, and in examining the reasons for rodent population outbreaks. His work has attracted both national and international media interest, and formed the basis for a Discovery Channel documentary about rat swarms in the Chittagong Hill Tracts of Bangladesh.